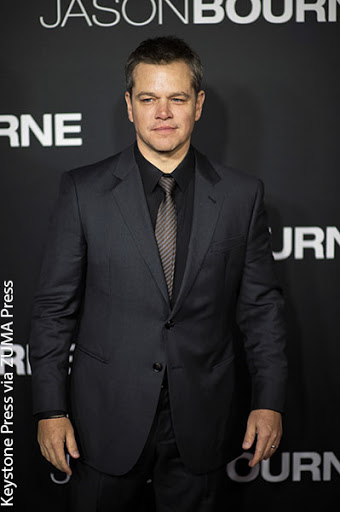 Matt Damon's Bourne films may be gun-heavy, but the actor is far from supportive of his home country's current gun laws.
While in Australia promoting the upcoming action thriller Jason Bourne, the fifth film in the franchise, Matt applauded the land down under for their gun law reform and said he wishes the U.S. would follow suit.
During an interview with The Sydney Morning Herald, the 45-year-old actor said, "You guys did it here in one fell swoop and I wish that could happen in my country, but it's such a personal issue for people that we cannot talk about it sensibly. We just can't."
He added, "People get so emotional that even when you make a suggestion about not selling AK-47s to people on terror watch lists, that's a non-starter. I don't know what needs to happen."
The Oscar winner then touched on the horrific history of mass shootings in the United States.
"Obviously mass shootings aren't going to do it. There have been so many of them at this point. Sandy Hook, when those children were murdered, if that didn't do it…I just don't know. Maybe we just need to evolve further before we can have that conversation…"
Australia instilled nationwide gun law reform years ago, and, according to researchers, it has significantly reduced cases of mass shootings over the last 20 years.
Matt said, "It's wonderful what Australia did because you guys haven't had a mass shooting since you went, 'No, we're going to be sensible about this.' And nobody's rights have been infringed, you guys are fine."
He also stated, "I wish we could be sensible like that but I don't think that's going to happen in my lifetime."
In the wake of the tragic Orlando shooting in June 2016, there was hope that gun control in the U.S. would be reevaluated. However, the U.S. Senate rejected four new gun control proposals, which prompted many stars and public figures to express their frustrations via social media. Check out what Bette Midler, Mia Farrow and presidential hopeful Hilary Clinton Tweeted below.
Matt's film Jason Bourne, which also stars Julia Stiles, Alicia Vikander, Vincent Cassel and Tommy Lee Jones, hits theaters July 29.
What do you think about Matt's comments on gun control? Share your thoughts with us!
How many more will die because of these scum?
Senate Votes Down 4 Measures Meant to Curb Gun Sales https://t.co/TN42EXMxxE

— Bette Midler (@BetteMidler) June 21, 2016
The NRA has gifted more than $36 million to the 56 Republican senators who blocked the gun control measures today. https://t.co/mNLQgCXWY0

— mia farrow (@MiaFarrow) June 21, 2016
Enough. -H pic.twitter.com/3herO6i1Pr

— Hillary Clinton (@HillaryClinton) June 21, 2016