Matthew Espinosa talks to Tribute about his film debut in Be Somebody
By Alexandra Heilbron on June 17, 2016 | 1 Comment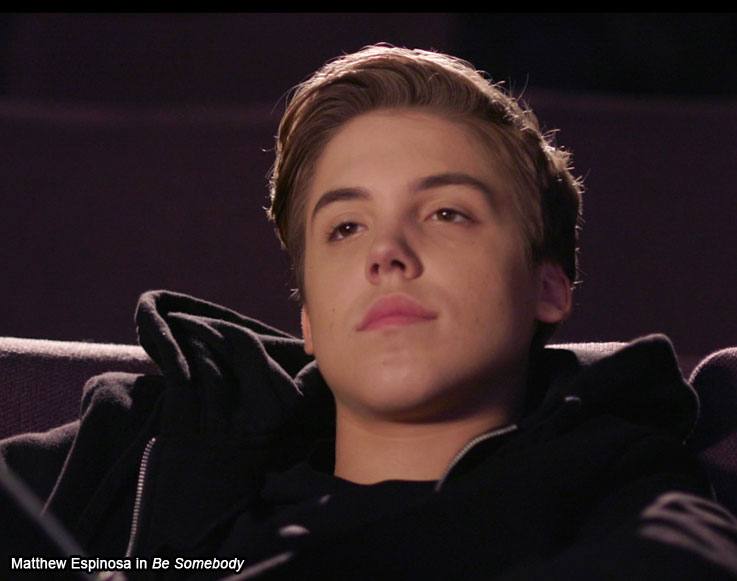 Matthew Espinosa began to gain a large following when he started to put videos of himself on Vine. He soon gained an impressive social media following with 5 million Instagram followers, 3.75 million Twitter followers, over 2 million followers on his YouTube Channel and 6.3 million followers on Vine, where he first broke out as a popular personality.
Now 18, Matthew is starring in his first movie, titled Be Somebody, which is now available on VOD. He plays a disillusioned pop superstar named Jordan Jaye, who gets left behind in a small town by his tour bus. He meets a girl who agrees to let him hang out with her until he can get word to his team about where he is. However, he soon finds himself fascinated by her life and realizes he enjoys being an anonymous teen.
Matthew's Vine videos are hilarious, so I had high hopes for the movie and I was definitely not disappointed. Be Somebody is a great debut film for Matthew, who's a fun personality to watch on screen — and it goes without saying that he's a total cutie.
I had the chance to talk to him by phone about how he got so famous on social media and about what it was like to make his film debut in a starring role.
Really sweet film, I loved it and you were fantastic in it, I can't believe this was your acting debut! How did you get cast in the movie, did you have to audition?
Kinda not really. The team was really focused on getting me a project that I would love and since I'm the executive producer, I really wanted to just make it my own movie as well. So we found this script and with my age and with my fan base, we felt that it was a good fit for me. That's not to say we didn't audition pretty much every other cast member.
I'd like to ask you about being an executive producer on this film, how did that come about and what does it entail?
When they asked me to be in a movie, I started asking them different questions, like what's this, what are we going to do with this, what's the music going to be like and they were like, "Wait, so you really want to know all these things" and just from the questions I was asking, they noted that I was intrigued by the whole process, not just the acting part, so we started talking and I asked if I could be the executive producer. They agreed and at that point, we started the casting process. It was a really long process, but I had to do a lot with the music, and I was picking the people and had to get them to come in to do chemistry reads. I had a lot of people coming to me for questions and answers. The fact that it's my first movie and I had the executive producer title, it's honestly a blessing.
It's very impressive. In regards to acting, because that was new for you too – what was the most challenging aspect of making your acting debut?
A lot of the other actors in the movie are traditional actors, so I guess it was the pressure of knowing that I had a standard to live up to with my co-stars. Another thing that was really challenging was acting in the cold. I remember being outside and I had to act like I wasn't cold but I was shaking, like my lips were frozen so I couldn't even articulate my words. It was a little difficult but I would always run to the heater afterwards and they would throw a jacket and a blanket on me right when the shot would end, so they were making sure I was staying nice and toasty but it was still pretty difficult.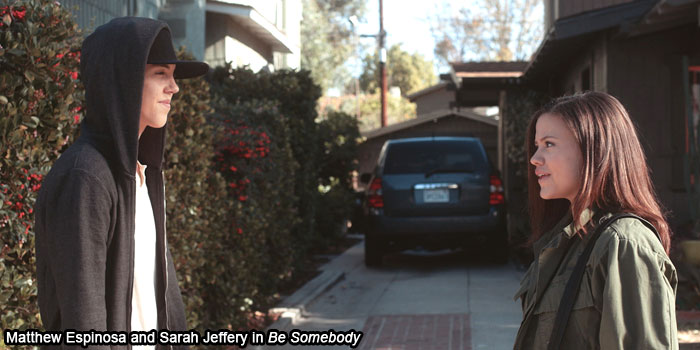 Where did you film it?
We filmed it in probably 10 to 12 different locations all around California.
What was your favorite scene to film?
Probably the café scene, or when we break into the school and mess around at the basketball court and the reason I say that is because whenever we were at the basketball court, I would shoot hoops at the other end of the court while the crew was setting up. It was really fun to shoot.
Do you like to play basketball in your spare time?
Yeah, whenever I see a hoop and a ball! (laughs)
What was your favorite thing about being in a movie?
Honestly, how much effort it took and I know that sounds weird but I was definitely up for the challenge and I didn't think it would be that hard, but to wake up and have to do 12-hour days back-to-back-to-back-to-back-to-back, just consistently for three weeks and only have two days off a week, and even then I would still focus on the movie, I wouldn't even go out because I'd be catching up on sleep over the weekend. It made me appreciate the work that goes into films.
Since this was your first movie, was there anything that surprised you about the filmmaking process?
Yeah, a lot surprised me. Like, how the littlest things can make a difference on camera. That's why it gave me a huge appreciation of film. How one little light, how one little shade could turn everything wrong and how the continuity is so important, like what the actors are wearing. Every scene is so calculated, every move is so precise, it's really amazing.
Can we talk about how you got started – how did you acquire a huge social media following?
I got started on social media when I was going into freshman year of high school. I was posting on Facebook like everybody else and then Vine came out. I was hanging out in a basement with my friend Tim Newell and he was like, "Do you have Vine, bro?" And I was like, "Nah, I'm going to wait for that to actually blow up, I don't want to do that." I didn't want to get Vine at first because I didn't think it would be a big app. So then he was like, "No dude, it's blowing up, everyone's so funny on it, you gotta check it out. Dude, I know you'd be so funny on it, do something funny." So I made a couple of Vines and a couple of weeks later, this Twitter account called Best Vines tweeted one of my Vines and it got really big.
What does your family think about all of this?
My mom and dad, at first they were really confused about what the whole situation was, but then I had a Meet and Greet at Tyson's Corner Mall and when they saw the amount of people who turned up, they really understood that this was potentially something that would lead to something bigger in my life. I felt really blessed and grateful that they trusted me enough to let me take that first leap into my career.
What do you hope this movie leads to?
I hope it opens up more opportunities, not just in movies but in business and to give me a voice because at the end of the day we have this vision and goal to be our better selves. I feel like we have to help shape this Earth and help other people.
Have you ever thought about being a filmmaker? Your Vine videos are so well edited, they're so snappy and entertaining to watch.
Thank you so much. Yes, filmmaking has always been one of my huge passions. I started editing in second grade, but I would never put myself into those videos. I would download clips and pictures and music and I would sync the music and I just fell in love with it. When I got the confidence to put myself in those videos, it gave me a huge love and huge appreciation of filmmaking, which made me want to do it so much more. When Vine gave me the opportunity to make movies, I realized that this was my calling.
Thank you so much for talking to me today about Be Something and I hope we get to see you in many more movies! 
Thank you!
~Alexandra Heilbron
---
---
---
---