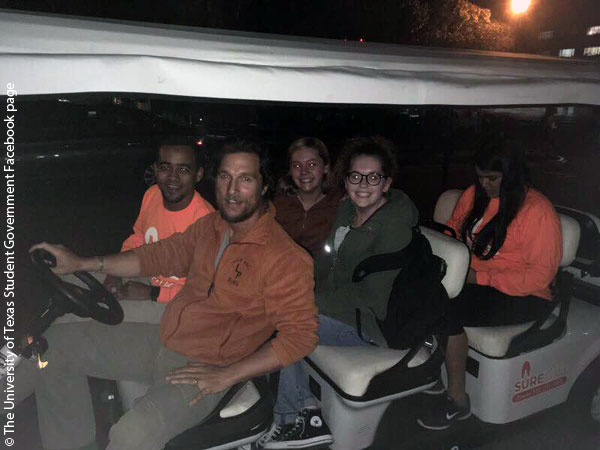 While it might not be as stylish as a Lincoln, Matthew McConaughey's latest ride is hitting the road for a much better cause.
The Oscar winner, who graduated from the University of Texas in 1993, returned to his alma mater on Monday night to offer students a safe ride home in a spacious eight-seater golf cart.
Making sure the kids got home "all right, all right, all right," the born-and-bred Texan was cruising around UT Austin to raise awareness about the university's SURE Walk program, which offers students someone to ride or walk home with in order to help them feel safer while traveling at night.
In a post on the University of Texas Student Government Facebook page, Matthew can be seen giving a lift to a group of smiling students.
"Longhorns take care of each other, and it's 'safe' to say Matthew McConaughey agrees. Don't forget to use SURE Walk when traveling home late at night; you never know who might pick you up!" the post read.
What do you think about Matthew's charitable taxi service? Sound off below!