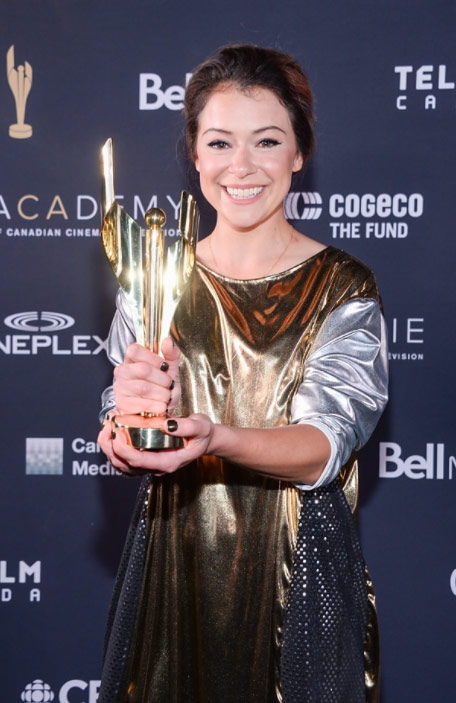 The Academy of Canadian Cinema & Television honoured the best in Canadian film and television at the 2018 Canadian Screen Awards last night, which was broadcast live on CBC from Toronto's Sony Centre for the Performing Arts. Hosted by Jonny Harris and Emma Hunter, forty-three (43) awards were presented to Canada's best screen talent.
Maudie, starring Sally Hawkins and Ethan Hawke, won seven awards, including Best Motion Picture, Best Lead Actress for Hawkins and Best Supporting Actor for Hawke. The film, which was shot in Newfoundland but set in Nova Scotia, also won for Direction, Screenplay, Costume Design and Editing. 
On the TV side, Tatiana Maslany won her fifth consecutive "Best Actress in a Leading Dramatic Role" Canadian Screen Award for her multiple roles in Orphan Black, while Alexander Ludwig won for Best Lead Actor in a Leading Dramatic Role for his work in Vikings. The series Anne, which offers up a dark look at the Anne of Green Gables books by Canadian author L.M. Montgomery, took home the prize for Best Drama Series, while Kim's Convenience won for Best Comedy Series.
Check out the full list of winners in both film and television below.
2018 CANADIAN SCREEN AWARDS FILM WINNERS
Best Motion Picture
Maudie – Bob Cooper, Mary Young Leckie, Mary Sexton, Susan Mullen
Achievement in Direction
Aisling Walsh – Maudie
Adapted Screenplay
Anita Doron – The Breadwinner
Original Screenplay
Sherry White – Maudie
Performance by an Actor in a Leading Role
Nabil Rajo – Boost
Performance by an Actor in a Supporting Role
Ethan Hawke – Maudie
Performance by an Actress in a Leading Role
Sally Hawkins – Maudie
Performance by an Actress in a Supporting Role
Bahar Nouhian – Ava
Achievement in Editing
Stephen O'Connell – Maudie
Achievement in Art Direction / Production Design
François Séguin – Hochelaga, Land of Souls | Hochelaga, Terre des Âmes
Achievement in Cinematography
Nicolas Bolduc – Hochelaga, Land of Souls | Hochelaga, Terre des Âmes
Achievement in Costume Design
Trysha Bakker – Maudie
Achievement in Make-Up
Érik Gosselin, Marie-France Guy – The Ravenous | Les Affamés
Achievement in Music – Original Score
Mychael Danna, Jeff Danna – The Breadwinner
Achievement in Music – Original Song
Qais Essar, Joshua Hill – The Breadwinner – "The Crown Sleeps"
Achievement in Overall Sound
Claude La Haye, Bernard Gariépy Strobl, Daniel Bisson, Louis-Antoine Lassonde – Hochelaga, Land of Souls | Hochelaga, Terre des Âmes
Achievement in Sound Editing
Nelson Ferreira, John Elliot, J.R. Fountain, Dashen Naidoo, Tyler Whitham – The Breadwinner
Achievement in Visual Effects
Alain Lachance, Yann Jouannic, Hugo Léveillé, Nadège Bozzetti, Antonin Messier-Turcotte, Thibault Deloof, Francis Bernard – Hochelaga, Land of Souls | Hochelaga, Terre des Âmes
Ted Rogers Best Feature Length Documentary
Sponsor | Rogers Group of Funds
Rumble: The Indians Who Rocked the World – Stevie Salas, Tim Johnson, Christina Fon, Catherine Bainbridge, Alfonso Maiorana, Linda Ludwick, Lisa M. Roth, Ernest Webb, Diana Holtzberg, Jan Rofekamp
Best Cinematography in a Feature Length Documentary
Alfonso Maiorana – Rumble: The Indians Who Rocked the World
Best Editing in a Feature Length Documentary
Benjamin Duffield, Jeremiah Hayes – Rumble: The Indians Who Rocked the World
Best Short Documentary
Take a Walk on The Wildside – Lisa Rideout, Lauren Grant, Sasha Fisher
2018 CANADIAN SCREEN AWARDS TELEVISION WINNERS
Best Drama Series
Anne (CBC/Netflix)
Moira Walley-Beckett, Miranda de Pencier
Best Comedy Series
Kim's Convenience (CBC)
Ivan Fecan, Ins Choi, Kevin White, Alexandra Raffé, Anita Kapila, Sandra Cunningham
Best Reality/Competition Program or Series
The Amazing Race Canada (CTV)
John Brunton, Barbara Bowlby, Mark Lysakowski, Mike Bickerton, Sarah James, Kyle Martin, Robyn Bigue, Ann Camilleri, Guy Clarkson, Steff Millman, Catherine Petersen
Best Lead Actor, Drama Series
Alexander Ludwig – Vikings 
Best Lead Actress, Drama Series
Tatiana Maslany – Orphan Black
Best Lead Actor, Comedy
Paul Sun-Hyung Lee – Kim's Convenience
Best Lead Actress, Comedy
Catherine O'Hara – Schitt's Creek
Donald Brittain Award for Best Social/Political Documentary Program
The Secret Path
Stuart Coxe, Mike Downie, Jocelyn Hamilton, Gord Downie, Justin Stephenson, Jeff Lemire, Sarah Polley, Patrick Downie
Best Performance, Sketch Comedy (Individual or Ensemble)
Carolyn Taylor, Meredith MacNeill, Aurora Browne, Jennifer Whalen
Baroness von Sketch Show
Best Limited Series or Program
Alias Grace
Noreen Halpern, Sarah Polley, Mary Harron, D.J. Carson
Best Lead Actor, Drama Program or Limited Series
Billy Campbell – Cardinal
Best Lead Actress, Drama Program or Limited Series
Sarah Gadon – Alias Grace
SPECIAL AWARD CATEGORIES
Golden Screen Award for TV Drama
Murdoch Mysteries
Christina Jennings, Scott Garvie, Yannick Bisson, Peter Mitchell, David Clarke
Golden Screen Award for TV Reality Show
The Amazing Race Canada
John Brunton, Barbara Bowlby, Mark Lysakowski, Mike Bickerton, Sarah James, Kyle Martin, Robyn Bigue, Ann Camilleri, Guy Clarkson, Steve Millman, Catherine Petersen
Cineplex Golden Screen Award for Feature Film
De père en flic 2 – Denise Robert, Émile Gaudreault
Best First Feature Award, supported by Telefilm Canada
Sadaf Foroughi – Ava
Academy Board of Directors' Tribute, supported by Indigo
Margaret Atwood
Academy Icon Award
Rick Mercer Report
Earle Grey Award
Clark Johnson
Lifetime Achievement Award
Peter Mansbridge
COGECO FUND AUDIENCE CHOICE AWARD
Elise Bauman – Carmilla
CANADIAN SCREEN AWARDS NON-FICTION CATEGORY WINNERS:
Rob Stewart Award for Best Science or Nature Documentary Program or Series
The Wild Canadian Year (CBC) – Jeff Turner, Sue Turner, Caroline Underwood
Best Host or Interviewer in a News or Information Program or Series
CBC News: The Fifth Estate – Cross Lake: This is Where I Live – Gillian Findlay
Best News Anchor, Local
British Columbia Votes (CBC British Columbia) – Andrew Chang
Best Reportage, National
Global National – Ontario's Troubled Probation System – Mike Omelus, Dawna Friesen, Carolyn Jarvis
Best News or Information Segment
APTN Investigates – Against Their Will – Cullen Crozier, Holly Moore, Paul Barnsley
Best News or Information Program
Terror – Viceland (Rogers Media) – Suroosh Alvi, Bernardo Loyola, Peter Salisbury, Michael Kronish, Shane Smith, Eddy Moretti
Best Sports Analyst
Raptors Basketball on TSN – Jack Armstrong
Best Sports Feature Segment
Sound of Thunder – TSN (Bell Media) – Matt Dorman, Brent Blanchard, Devon Burns, Kevin Fallis
Best Sports Opening/Tease
2016 Grey Cup – TSN (Bell Media) – Craig Chambers, Devon Burns, Troy Hacock
Best Live Sports Event
Sponsor | Dome Productions – 2016 MLS Cup TSN (Bell Media) – Jim Panousis, Steve Abitrante
Best Sports Host
2017 TradeCentre – TSN (Bell Media) – James Duthie
Best Photography, News or Information
CBC News: The National – Dancing Towards the Light – Ed Ou, Kitra Cahana
Best Photography, Lifestyle or Reality/Competition
The Amazing Race Canada – Can I See Your Kuna? – CTV (Bell Media) – Ryan Shaw
Best Photography, Documentary or Factual
Abandoned – Newfoundland Coast – Viceland (Rogers Media) – Alex Craig, David Ehrenreich
Best Picture Editing, Documentary
Canada In A Day – CTV (Bell Media) – Nick Hector
Best Picture Editing, Reality/Competition
The Amazing Race Canada – Finale CTV (Bell Media) – Al Manson, Jonathan Dowler, Clare Elson, John Niedzielski, Jay Prychidny, Jordan Wood, Michael Tersigni
Best Picture Editing, Factual
Hello Goodbye – Lean on Me (CBC) – Derek Esposito
Best Children's or Youth Non-Fiction Program or Series
Science Max: Experiments at Large TVOKids – Nat Abraham, Michael McGuigan, Ira Levy, Peter Williamson, Joan Lambur, Phil McCordic, Leanne Brennan
Best Variety or Entertainment Special
P.K. Subban: Shots Fired (CBC) – Bruce Hills
Barbara Sears Award for Best Editorial Research
W5: Making a Terrorist (CTV/Bell Media) – Madeline McNair, Brennan Lefler, Victor Malarek
Barbara Sears Award for Best Visual Research
League of Exotique Dancers (Documentary Channel/CBC) – Erin Chisholm
Best Writing, Factual
Still Standing – Fort McMurray (CBC) – Jonny Harris, Fraser Young, Steve Dylan, Graham Chittenden
Best Writing, Lifestyle or Reality/Competition
The Amazing Race Canada – We Just Saw Johnny Mustard (CTV/Bell Media) – Mark Lysakowski, Jennifer Pratt, Rob Brunner
Best Writing, Documentary
Unstoppable: The Fentanyl Epidemic (CBC) – Robert Osborne
Best Biography or Arts Documentary Program or Series
Rush: Time Stand Still (HBO Canada/Bell Media) – Allan Weinrib, Pegi Cecconi, Ray Danniels, John Virant, Corey Russell
Best Factual Series
Mayday (Discovery Channel/Bell Media) – Alex Bystram, Kim Bondi, Martin Pupp
Best History Documentary Program or Series
The Nature of Things with David Suzuki: Lost Secrets of the Pyramid (CBC) – Alan Handel, James Hyslop, Carlo Massarella, Dan Kendall
Best Documentary Program
RISE (Viceland/Rogers Media) – Michelle Latimer, Tania Natscheff, Bernardo Loyola, Patrick McGuire, Heather Rae, Michael Kronish, Spike Jonze, Eddy Moretti, Shane Smith
Gordon Sinclair Award for Broadcast Journalism
Karyn Pugliese
Best Original Music, Non-Fiction
Sponsor | YANGAROO
The Secret Path (CBC) – Gord Downie, Kevin Drew, Dave Hamelin
Best Sound, Non-Fiction
Where The Universe Sings: The Spiritual Journey of Lawren Harris (TVO) – Sanjay Mehta, Ian Rodness, Steve Blair, Dustin Harris
Best Production Design or Art Direction, Non-Fiction
Big Brother Canada – Finale (Global/Corus Entertainment) – Peter Faragher, Kevin Halliday, Aaron Scholl, Andy Roskaft
Best Direction, Live Sports Event
2016 MLS Cup (TSN/Bell Media) – Richard Wells
Best Direction, Lifestyle or Information
Canada Day 150! From Coast to Coast to Coast (CBC) – David Russell
Best Direction, Reality/Competition
The Amazing Race Canada – Finale (CTV/Bell Media) – Rob Brunner
Best Direction, Documentary or Factual Series
Real Vikings: Viking Women (History/Corus Entertainment) – Rebecca Snow
Best Direction, Documentary Program
Canada In A Day (CTV/Bell Media) – Trish Dolman
Best Host in a Live Program or Series
Sponsor | Corus Entertainment
Canada Day 150! From Coast to Coast to Coast (CBC) – Rick Mercer
Best Talk Program or Series
The Marilyn Denis Show (CTV/Bell Media) – Michelle Crespi, John Simpson
Best Lifestyle Program or Series
Sponsor | Corus Entertainment
Property Brothers (HGTV/Corus Entertainment) – Gerard Barry, Drew Scott, Jonathan Scott, Kim Bondi, Jessica Vander Kooij
Best Live Entertainment Special
The JUNO Awards 2017 (CTV/Bell Media) – John Brunton, Barbara Bowlby, Randy Lennox, Allan Reid, Mark Cohon, Lindsay Cox, Pam De Montmorency, Tracy Galvin, Kristeen Von Hagen, Luciano Casimiri, Mark Vreeken, Howard Baggley, Simon Bowers, Doug McClement, Alex Nadon
Best News or Information Series
CBC News: The Fifth Estate (CBC) – Jim Williamson, Julian Sher
Best Host in a Program or Series
Your Special Canada (CBC) – Jonathan Torrens
Best Local Newscast
CBC News: Vancouver at 6 – Alexandra Gibb, Joan Marshall, Eric Rankin, Natalie Clancy, Amar Parmar
Best National Newscast
CTV National News with Lisa LaFlamme – Lisa LaFlamme, David Hughes, Rosa Hwang, Allan Myers, Allan Black
Best News Anchor, National
CBC News Network with Heather Hiscox – Heather Hiscox
Best Reportage, Local
CBC News: Vancouver at 6 – Kati's Story (CBC British Columbia) – Eric Rankin, Cliff Shim, Amar Parmar
Best News Special
Fort McMurray: The Road Back (Global Edmonton/Corus Entertainment) – Deb Zinck, Kerry Powell, Darcy Craig, Christine Meadows, Kent Morrison, Fletcher Kent
Best Sports Play-by-Play Announcer
2016 MLS Cup (TSN/Bell Media) – Luke Wileman
Best Sports Program or Series
Aaron Sanchez – Limitless (Sportsnet/Rogers Media) – Paul Sidhu, Stephen Brunt, Elia Saikaly, Mark Wade, Marc LeBlanc
CANADIAN SCREEN AWARDS CREATIVE FICTION STORYTELLING CATEGORY WINNERS
Best Supporting Actor, Drama
R. H. Thomson, Anne (CBC/Netflix)
Best Supporting Actress, Drama
Allie MacDonald, Cardinal CTV (Bell Media)
Best Guest Performance, Drama Series
Steven McCarthy, Mary Kills People – The Judas Cradle Global (Corus Entertainment)
Best Performance, Children's or Youth
Ella Ballentine, L.M. Montgomery's Anne of Green Gables: Fire & Dew  YTV (Corus Entertainment)
Best Performance, Animation
Martin Short, The Cat in the Hat Knows A Lot About Halloween! Treehouse TV (Corus Entertainment)
Best Supporting or Guest Actor, Comedy
Andrew Phung, Kim's Convenience – Cardboard Jung, Resting Place (CBC)
Best Supporting or Guest Actress, Comedy
Emily Hampshire, Schitt's Creek – New Car, The Throuple (CBC)
Best Pre-School Program or Series
PAW Patrol – TVOKids (TVO)
Laura Clunie, Ronnen Harary, Keith Chapman, Scott Kraft, Toni Stevens, Patricia Burns, Jonah Stroh
Best Animated Program or Series
Sponsor | Spin Master Entertainment
Cloudy with a Chance of Meatballs – YTV (Corus Entertainment)
Lesley Jenner, Mark Evestaff, Steven Denure, Kirsten Newlands, Ken Faier, Asaph Fipke, Josh Scherba, Rick Mischel
Best Children's or Youth Fiction Program or Series
Odd Squad – TVOKids (TVO)
J.J. Johnson, Blair Powers, Matthew J.R. Bishop, Stephen J Turnbull, Tim McKeon, Mark De Angelis, Adam Peltzman, Paul Siefken
Academy Board of Directors' Tribute
Jay Switzer
Best Photography, Comedy
Gerald Packer, Schitt's Creek – Grad Night (CBC)
Best Photography, Drama
Steve Cosens, Cardinal CTV (Bell Media)
Best Picture Editing, Comedy
Mike Fly, Jeremy LaLonde, Baroness von Sketch Show – It Satisfies on a Very Basic Level (CBC)
Best Picture Editing, Drama
Teresa De Luca, Cardinal CTV (Bell Media)
Best Live Action Short Drama
Lee Filipovski, Fluffy
Best Animated Short
Matthew Rankin, Julie Roy, The Tesla World Light
Best Production Design or Art Direction, Fiction
Arv Greywal, Alias Grace (CBC)
Best Costume Design
Simonetta Mariano, Alias Grace (CBC)
Best Achievement in Make-Up
Sponsor | M•A•C Cosmetics
Stephen Lynch, Orphan Black – To Right the Wrongs of Many Space (Bell Media)
Best Visual Effects
Vikings – On The Eve History (Corus Entertainment)
Bill Halliday, Dominic Remane, Michael Borrett, Paul Wishart, Ovidiu Cinazan, Jim Maxwell, Kieran McKay, Isabelle Alles, Thomas Morrison, Leann Harvey
Best Achievement in Casting
Jon Comerford, Lisa Parasyn, Cardinal CTV (Bell Media)
Humanitarian Award, supported by MLSE
Bell Let's Talk
Best Sound, Animation
PAW Patrol – Mission PAW: Quest for the Crown TVOKids (TVO)
Richard Spence-Thomas, Tim Muirhead, Kyle Peters, Patton Rodrigues, Ryan Ongaro
Best Sound, Fiction
Vikings – The Reckoning History (Corus Entertainment)
Martin Lee, Ian Rankin, Daniel Birch, Brent Pickett, Dale Sheldrake, Steve Medeiros, Brennan Mercer, Jane Tattersall, David McCallum, Goro Koyama, Yuri Gorbachow
Best Original Music, Animation
Steffan Andrews, Cloudy with a Chance of Meatballs – Bacon Girl YTV (Corus Entertainment)
Best Original Music, Fiction
Todor Kobakov, Cardinal CTV (Bell Media)
Best Writing, Variety or Sketch Comedy
Baroness von Sketch Show – It Satisfies on a Very Basic Level (CBC)
Carolyn Taylor, Meredith MacNeill, Aurora Browne, Jennifer Whalen, Jennifer Goodhue, Monica Heisey, Mae Martin, Zoe Whittall
Best Writing, Comedy
Jacob Tierney, Jared Keeso, Letterkenny – Relationships CraveTV (Bell Media)
Best Writing, Drama Program or Limited Series
Sarah Polley, Alias Grace (CBC)
Best Writing, Drama Series
Graeme Manson, Renee St. Cyr, Orphan Black – To Right The Wrongs of Many Space (Bell Media)
Best Writing, Children's or Youth
Adam Peltzman, Tim McKeon, Odd Squad – Drop Gadget Repeat / 20 Questions TVOKids (TVO)
Best Writing, Animation
Sean Jara, Mysticons – Sisters in Arms YTV (Corus Entertainment)
Margaret Collier Award, supported by Halfire Entertainment
Denis McGrath
Best Direction, Animation
Charles E. Bastien, PAW Patrol – Mission PAW: Quest for the Crown TVOKids (TVO)
Best Direction, Children's or Youth
John Kent Harrison, L.M. Montgomery's Anne of Green Gables: Fire & Dew YTV (Corus Entertainment)
Best Direction, Variety or Sketch Comedy
Yael Staav, Baroness von Sketch Show – It Satisfies on a Very Basic Level (CBC)
Best Direction, Comedy
Sponsor | Cinespace Film Studios
Jacob Tierney, Letterkenny – The Election CraveTV (Bell Media)
Best Direction, Drama Program or Limited Series
Mary Harron, Alias Grace (CBC)
Best Direction, Drama Series
Sponsor | Playback
Holly Dale, Mary Kills People – The River Styx Global (Corus Entertainment)
Best Sketch Comedy Program or Series
Baroness von Sketch Show (CBC)
Jamie Brown, Carolyn Taylor, Meredith MacNeill, Aurora Browne, Jennifer Whalen