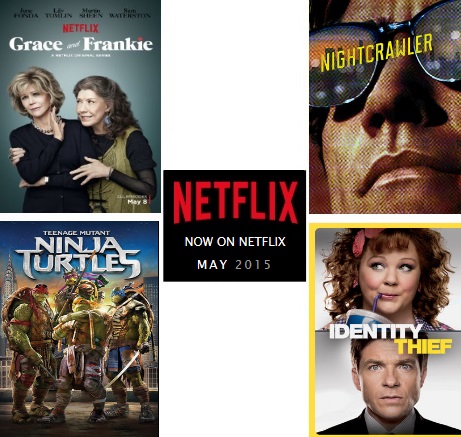 Make way, TV addicts! New seasons, new movies and new original shows are on their way to your screen in May! As bright and sunny as it may be outside, it still isn't enough to stay away from the television. Netflix's new original series Grace And Frankie can give you your fill of laughter, as the show comes straight from executive producers Howard J. Morris and Marta Kauffman, who were responsible for the fan favorite Friends. Can we be any more grateful? Here's what's springing into action to keep you company for another month!
Originals, please!
In Grace & Frankie (May 8), Jane Fonda (Grace) and Lily Tomlin (Frankie) go through five stages of err…grief, when they find out their husbands are gay and leaving them for each other. Ouch! With a handful of mood enhancers and each other for company, the modern women redefine the term "family." Another Netflix original comedy here to spice things up is Jen Kirkman: I'm Gonna Die Alone (And I Feel Fine) (May 22). If that title doesn't draw you in, Jen Kirkman's appearances on Chelsea Lately and the award-winning Drunk History might do the trick.
Kids Just Wanna Have Fun
Of course, Netflix has a place for kids on the table. Kids can dig their baby claws into five new episodes of The Adventures of Puss in Boots (May 8) or watch Richie Rich wreak havoc in Season 2 (May 22). Mermaids swim their way in H2O: Mermaid Adventures: Season 1 (May 22) and in Mako Mermaids: Season 3 (May 29).
Canadian Love, eh?
With love from Canada, Heartland Season 8 is up for viewer grabs (May 1) along with Mr. D (May 1). The fierce Dragons' Den Season 9 also makes the cut and will be available May 2.
Gimme Gimme More
A hot serving of more drama-packed seasons are coming your way. On May 1, you can help yourself with a fifth season of Drop Dead Diva and Longmire. You want more? Series 5 – 10 of Shameless will be perched unapologetically on your screen starting May 1. William Murdoch will keep you company with Season 8 of Murdoch Mysteries while Psych (Season 8 – May 26) and Doctor Who (Season 8 – May 9) also make for great TV companions.
A Handful of Rebels
Courtesy takes a back seat as a few rebels come out to play! Jake Gyllenhaal's award-worthy performance in Nightcrawler (May 15) is reason enough to watch this pulse-pounding psychological thriller. He will satisfy your inner Norman Bates. Chris Hemsworth arms himself in Red Dawn (May 19) while Tommy Lee Jones puts his best foot forward in The Homesman (May 17). You can also catch Jason Bateman at his best in Identity Thief (May 7), or watch fan favorites 42 (May 1) and Footloose (May 1). Teenage Mutant Ninja Turtles will also join you for dinner as they hit your TV screens on May 22.
Last Call
You only have until May 1 to enjoy Spring Breakers, The Other Boleyn Girl and Love Actually, as these buzz-worthy titles will be replaced with other juicy films. Denzel Washington and Chris Pine play heroes in the action-packed Unstoppable, which is only available until May 1. Kids can soak up The Spongebob SquarePants Movie before it leaves Netflix on  May 1. As much as you enjoyed watching Veronica Mars, it will bid farewell on May 7 so hurry up and watch it while you can. Also on the exit train are Safe House and The Shining, both of which promise to satisfy your fill for action, adventure and thrills.
Now you know 'em, so go watch 'em! Until next time, happy streaming! ~Marriska Fernandes