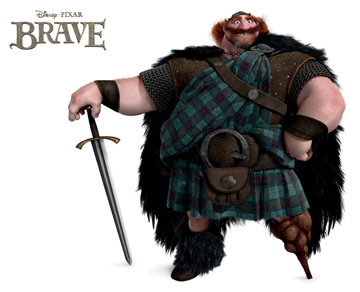 The new Disney/ Pixar movie Brave tells the story of Merida, a headstrong teenage princess who's the daughter of King Fergus and Queen Elinor. She inherited her skill and passion for the sword and bow from her father.
King Fergus (voiced by Billy Connolly) is a heroic warrior with a majestic bear cape, broad sword and a knobby peg leg – the result of his much-regaled skirmish with the demon bear Mor'du. His vendetta against the beast who took his leg makes Fergus a ferocious and determined bear hunter, evidenced by a home full of mounted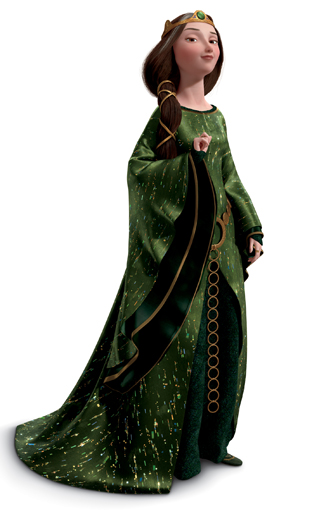 trophies of every size. Protector of his kingdom and family, Fergus has a heart as big as his triplet sons are mischievous and boundless love for his wife, Queen Elinor. But his pride for his first-born, Merida, is unmatched.
His wife, Elinor (voiced by Emma Thompson), is a vision of grace, wisdom and strength of character. She's dedicated to the well being of her family and kingdom. In contrast to her impulsive husband, Elinor is measured and diplomatic and carries the weight of the kingdom on her shoulders in order to maintain the fragile peace between the volatile clans. Elinor is determined to instill in her rebellious, spirited daughter the knowledge and manner of a royal, but Merida's desire to forge her own path ultimately causes Elinor to face calamitous consequences.