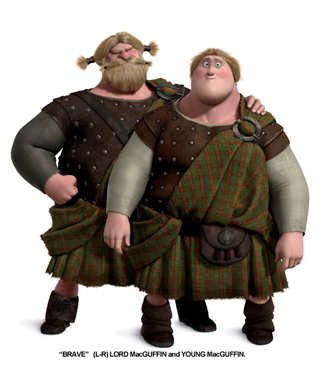 The new Disney/Pixar movie Brave tells the story of Merida, a headstrong teenager who also happens to be a princess. The three lords of the kingdom – Dingwall, Macintosh and MacGuffin – are the unruly, overzealous leaders of their respective clans. Though once warring factions, they united under the sword of King Fergus and are held together by the diplomacy and political savvy of Queen Elinor. The clans are summoned to Castle DunBroch to compete in the Highland Games, but the lords are outraged when Merida defies a sacred tradition. The clans fall back to their history of fervent feuding, which threatens the fragile peace of the entire kingdom.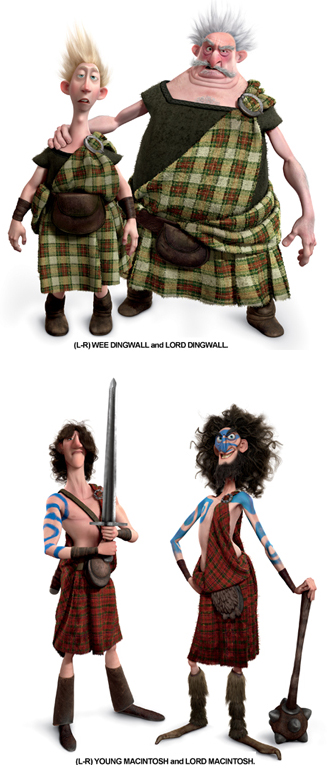 LORD MACGUFFIN (Voice of Kevin McKidd)
Strapping Lord MacGuffin is full of brawn and dignity. Though a man of few words, his deep voice resounds across the land demanding respect and contributing to his reputation as the most even-handed and reasonable lord in the kingdom. Even so, like his fellow lords, MacGuffin isn't opposed to a first-rate brawl or full-throated belly laugh.
YOUNG MACGUFFIN
Speaking an uncommon Scottish dialect that is incomprehensible to most, Young MacGuffin is a shy lad of large proportions. Being the center of attention is not his strong suit, but he will not hesitate to leap into a fight alongside his father and clan when the occasion arises.
LORD DINGWALL (Voice of Robbie Coltrane)
Grumpy and quick-tempered, the scrappy Lord Dingwall doesn't let being height-challenged get in the way of solving his problems with fisticuffs. Never one to shy away from an old-fashioned fracas or high-spirited kerfuffle, he has no qualms taking on even the burliest adversary to assert his own position in the kingdom.
WEE DINGWALL
Gangly, guileless and often lost in his own head, Wee Dingwall is the awkward son of Lord Dingwall. Though Wee Dingwall displays an eagerness that outweighs his inherited small size, his father will proudly employ his only son as an attack dog when the moment is right.
LORD MACINTOSH (Voice of Craig Ferguson)
The wiry, indignant and off-kilter leader of his clan, Lord Macintosh is always a heartbeat away from hysterics. His savage smile and fierce appearance – body bedecked in blue war paint and chest pridefully puffed up – proclaim that he's ready for battle at any moment, though his bark may be worse than his bite.
YOUNG MACINTOSH
As the first-born son of a lord, Young Macintosh knows he has it all – athletic physique, undeniable charm and long flowing locks that leave the lasses swooning in his wake. But vanity and legions of devotees can also be a distraction when it comes to bragging rights at the Highland Games.