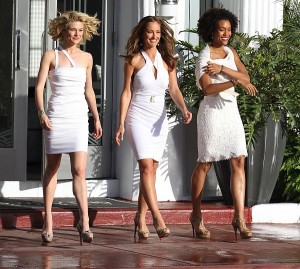 You won't see Cameron Diaz, Drew Barrymore or Lucy Liu reprise their roles as the famous sexy super spies. Get ready for a new set of women who are about to set the small screen on fire as Charlie's new angels.
The latest trio of ladies to fill the iconic roles are Minka Kelly (Friday Night Lights, The Roommate), Rachael Taylor (Transformers), and Annie Ilonzeh.  The girls were caught on camera recently filming scenes for the show in Miami.
According to Entertainment Weekly, the new show is set in present day and will feature the girls as reformed criminals who are brought together by Charlie to redeem themselves. Former big-screen Angel Drew Barrymore is the executive producer, which is one of the most talked about, and most promising, pilots for the upcoming fall season.
Robert Wagner will voice the role of Charlie made famous by the late John Forsythe, as the show plans on keeping Charlie out of sight like the original, and Battle: Los Angeles star Ramon Rodriguez is set to play the role of Bosley. "I've been doing Bosley boot camp for the last two weeks," he told E! "It's fight training, gun training, hanging with the Angels, getting to know my girls, getting to know Charlie. It's been a really, really fun time in Miami. I get to put my imprint on a character that's been around for a long time, and I'm excited to kind of push the envelope with that. See what I can get away with," he added.
—By Toni-Marie Ippolito