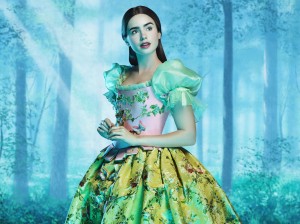 Lily Collins, daughter of musician Phil Collins, is set to star in the Brothers Grimm Classic Snow White fairy tale movie.
Although the movie doesn't have an official title yet, if this recently released photo is any indication, it looks like this classic fairy tale is going to be a visually-stunning experience.
Directed by Tarsem Singh (Immortals), the movie will star  Lily Collins (The Blind Side, Abduction) as the beautiful Snow White, Julia Roberts as the evil Queen who steals control of the kingdom, and Armie Hammer (The Social Network) as the object of their affection, Prince Andrew Alcott, and last but not least, Nathan Lane (The Birdcage) as the hapless and bungling servant to the Queen
"I keep saying to everyone I feel like I'm walking into a snow globe, a fairy tale, every single day," Collins' said. "It's so epic. I was part of a costume ball today, so you can only imagine the outfits. She's very much that fairy tale princess we've all read about in books. She's been modernized in a way that she becomes a fighter in the end."
The Untitled Snow White project is set to open March 16, 2012 and is currently filming in Montreal.