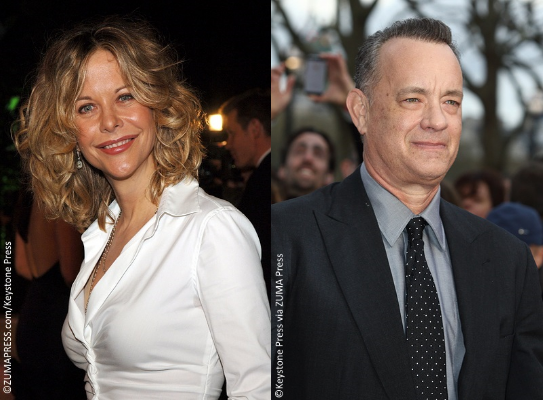 It's been nearly 20 years since on-screen sweethearts Meg Ryan and Tom Hanks dove into an online romance in You've Got Mail, but the romcom favorites will once again act alongside each other in a new film. Entertainment Weekly has the first evidence of their long-awaited collaboration.
The pair will appear together in Meg's directorial debut Ithaca, which is a coming-of-age tale set in California during WWII. Meg, who also stars in the film, plays a widowed woman while Tom plays her late husband.
While addressing Tom's cameo in an interview with EW, Meg said, "He's just so dear. He so did not have to do that."
"At the end of his time, he says to the crew, 'All right, gather 'round. Listen, I know we've gotten to know each other very well over the last 10 hours together, but I just want to thank you for being here for my friend Meg.' It was such an act of friendship. I love him so much," she added.
Ithaca premiered at the Middleburg Film Festival in 2015, and has since screened at international festivals in Savannah, Dubai and Sonoma. It is Meg and screenwriter Erik Jendresen's adaptation of William Saroyan's novel The Human Comedy.
The film, which costars Sam Shepard and Jack Quaid, enters limited release on September 9, 2016.
Previously, Meg and Tom lit up the screen together in 1990's Joe Versus the Volcano and 1993's Sleepless in Seattle.
Check out EW's photo of Meg and Tom on set together below.
Do you think they can recapture their chemistry from past films? Let us know what you think!