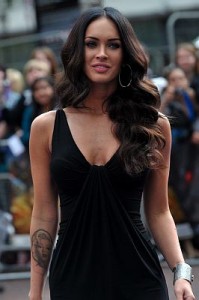 When Transformers star Megan Fox first came on the scene, she was compared to Angelina Jolie, for not only her beauty and bad girl reputation, but also for her tattoos.
But recently, Fox, says that she no longer wants to keep the large tattoo of Hollywood screen legend Marilyn Monroe on the inside of her forearm any longer.
Fox told reporters at an event recently that she's just "over it," and "You outgrow things that you love when you were a child. I got it when I was 18 and now I'm 25 and it just doesn't make sense anymore."
A few months back Fox told Italian fashion magazine Amica that she no longer thought of Monroe as the idol she once did. "It is a negative character, as she suffered from personality disorders and was bipolar. I do not want to attract this kind of negative energy in my life."
(Read the true life story of Marilyn Monroe here)
Fox still has several tattoos including one that says: "We will all laugh at gilded butterflies" on shoulder, from Shakespeare's "King Lear" and "there once was a little girl who never knew love until a boy broke her heart" on her ribs, which has been noticed while on bikini-clad vacations with her husband Brian Austin Green.
But the removal of something that was once had meaning for her, is more painful to remove than she thought. "It's a hundred times worse than the tattoo itself," she admitted. "I've only done one [session] so I probably have three or four left. I think it will come off completely because I have the right skin type to remove ink," she said. "The more fair skinned you are the easier it is to remove dark ink, and I'm as fair as it gets.