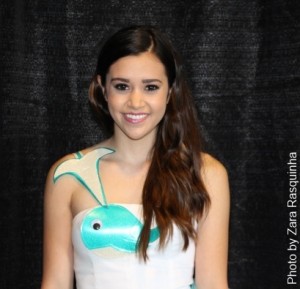 Singer, songwriter, pianist and guitarist Megan Nicole is a YouTube sensation. Her 2013 summer smash "Summer Forever" was featured  on Radio Disney and she performed for a global audience at this year's Big Ticket summer concert. We chatted with the very sweet and talented singer who discussed her music, inspiration and what it's like performing for her fans.
How excited are you to perform tonight?
On a scale of one to 10, like, 100.
Are you nervous?
Not yet. But we'll see what happens when I walk out on stage. But, for the most part, whether I'm performing for three people or like tonight, which is close to 15,000, I always go out there and give it my all and all my energy. The biggest difference between three people and 15,000 people is the energy they're giving back to you. You just feed off that and it's awesome.
Is this your first time performing in Toronto?
This is my second time in Toronto, but my first time to actually see some of it. The last time I was here, I literally drove up to the venue, went inside, did the sound check, performed, and got in the van and drove somewhere else. So I didn't see anything. But driving in last night and seeing the skyline, I was like, "Whoa. It's so beautiful."
What's your favorite part about performing live?
I think one of my favorite moments is when I look out into the crowd and I see people singing the lyrics to original songs I wrote. It's still such a surreal feeling and I just can't help but smile every time I look out into the audience and see people singing at the top of their lungs.
Where do you get your inspiration?
My inspiration comes from all over. Honestly, most of them are personal: Life experiences, my friends' experiences. I'll just hear them talking and I'll be like, "Ooh, that sounds like a good idea for a song. Mind if I take your drama for a second and channel it. I'll try to make it into an amazing song for you." That's probably the two areas I pull inspiration from the most, and then, honestly, my fans inspire me in a lot of ways. It sounds super cheesy but I mean that. Seriously, they inspire me in many ways. Just to see them on their journey, when they tweet me little things like, "Hey Megan, I just graduated high school" or "I'm doing this and you encouraged me to really pursue my dreams."
You went from being a YouTube sensation to being one of Interscope's newest signees. How did you handle that transition?
Although I'm no longer with Interscope and Bad Boy, it was definitely a transition in itself. YouTube is an amazing platform for artists to be discovered by labels. It was a crazy journey to be with Interscope and Bad Boy records. I would have never in a million years have thought that I'd be communicating with P. Diddy himself, which is pretty crazy. In the past few months, I actually went independent and I'm in the process of creating my own label and going the independent route right now, and honestly, it's been a really fun journey. It's nice to be able to create original music and then put it out when I want to, on my own time. So that's a big perk.
You mentioned P. Diddy. How did that come about?
It was definitely interesting. I remember getting a call and he wanted to meet with me so I flew out to his house and I played a few songs for him acoustically. Two weeks later, they flew me out to meet with Jimmy Iovine, the head of Interscope Records, and he ended up signing me. Unfortunately, things didn't work out. It wasn't the best fit for me but they definitely brought me some awesome music and introduced me to some very talented producers and writers and now I'm in a different part of my journey and a different part of my life and I'm excited to see where things go. I'm just still doing my thing.
What advice do you have for your fans who look up to you and want to follow in your footsteps?
My biggest piece of advice, and I know they probably hear this a lot, is just to be you. Be yourself. Especially in school, it's really easy to conform to what other people are saying you should be and how you should act and how you should dress. There's a difference between pulling inspiration from someone and completely changing who you are to fit a mold. So don't worry about that. Wear what you want to wear and just do you and you will find people who love you and connect to you just for being yourself.
What's next for you?
I'm already getting back into the studio to work on more music and getting out on the road and just continuing to tour, meet new people and share the new music.
Thank you so much. This has been fun. I'm wishing you all the best.
Thank you, appreciate it. ~Marriska Fernandes