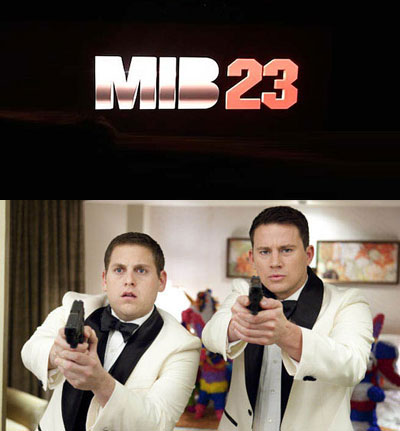 Sony Pictures gave a presentation at CinemaCon 2016 during which they officially announced the title of the Men in Black/Jump Street crossover film: MIB 23. The film will be a follow up to both Men in Black 3 (2012) and 22 Jump Street (2014). They also revealed the logo, shown at left.
Jump Street stars Jonah Hill and Channing Tatum have both signed on to reprise their roles as Schmidt and Jenko in the film, which will be directed by James Bobin, who most recently directed Alice Through the Looking Glass (2016). The screenplay has been written by Rodney Rothman, who penned the 22 Jump Street script.
Word has it that Men in Black stars Will Smith and Tommy Lee Jones won't be returning. Instead, Schmidt and Jenko will be new members of a secret organization to protect Earth from intergalactic threats.