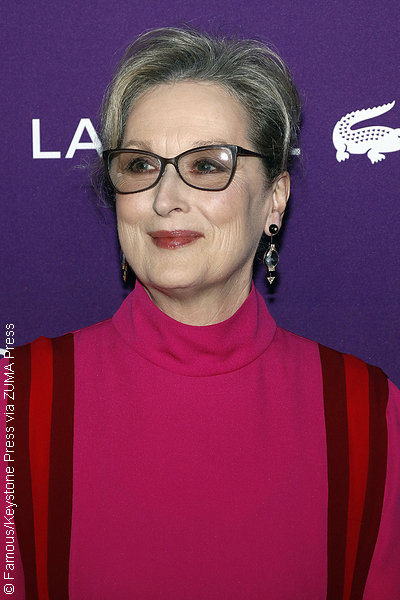 Meryl Streep and Gwyneth Paltrow have the best British accents, a study shows. Well, fake British accents that is.
A study conducted by language-learning app Babbel asked professional actors from the U.K. to rank on a five-point scale on how convincing the British accents  of American stars were in films that have grossed over $100 million. American actors were also asked to do the same, voting on portrayals of their accents by British stars.
Unsurprisingly, Meryl was awarded the top spot on the list by the Brits, for her outstanding and persuasive performance as Margaret Thatcher in 2011's The Iron Lady. Meryl, who took home Best Actress at the Oscars for the role that year, received the highest ranking of 4.9 out of 5 for mastering the British vernacular. Gwyneth came in second for her authentic imitation of a Brit in Shakespeare in Love, another Oscar-winning performance.
Coming in last place, with a pitiful score of 1.6 out of 5, is Dick Van Dyke and his less-than-favorable attempt on the traditional cockney accent in 1964's Mary Poppins.
British actor Chiwetel Ejiofor won over audiences on the opposite side of the pond in 2013, with his incredible portrayal of Solomon Northup in 12 Years A Slave. He topped the list with a well-deserved 4.5 out of 5.
Although we all know Kate Winslet is a great actress (she even has the Oscar to prove it), Americans were quite disbelieving of her take on their native tongue in Titanic, giving her the lowest score, a measly 2.4 out of 5. Another dishonorable mention: Rosamund Pike's efforts in Gone Girl. 
Check out the full list of rankings below! ~Ashleen Grange
Americans Playing Brits
Meryl Streep in The Iron Lady (2011): 4.9 out of 5
Gwyneth Paltrow in Shakespeare in Love (1998): 4.7 out of 5
Renée Zellweger in Bridget Jones's Diary (2011): 4.5 out of 5
Robert Downey Jr. in Sherlock Holmes (2009): 4.3 out of 5
Sean Astin in The Lord of the Rings franchise: 3.8 out of 5
Natalie Portman in V for Vendetta (2005): 3.5 out of 5
Angelina Jolie in Maleficent (2014): 3.3 out of 5
Johnny Depp in the Pirates of the Caribbean franchise: 3.0 out of 5
Kevin Costner in Robin Hood: Prince of Thieves (1991): 2.0 out of 5
Dick Van Dyke in Mary Poppins (1964): 1.6 out of 5
Brits Playing Americans
Chiwetel Ejiofor in 12 Years a Slave (2013): 4.5 out of 5
Christian Bale in The Dark Knight (2008): 4.2 out of 5
Henry Cavill in The Man of Steel (2013): 4.2 out of 5
Emma Watson in Perks of Being a Wallflower (2012): 4.1 out of 5
Clive Owen in Inside Man (2006): 4.1 out of 5
Benedict Cumberbatch in Doctor Strange (2016): 3.9 out of 5
John Boyega in Star Wars: The Force Awakens (2015): 3.7 out of 5
Rosamund Pike in Gone Girl (2014): 3.5 out of 5
Robert Pattinson in the Twilight franchise: 3.5 out of 5
Kate Winslet in Titanic (1997): 2.4 out of 5