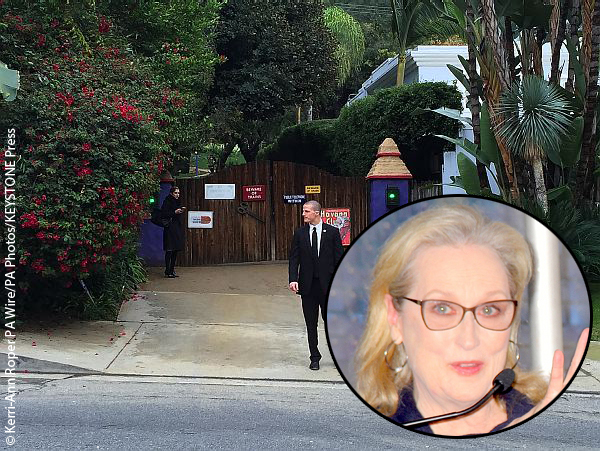 Many of Carrie Fisher and Debbie Reynolds' friends and family gathered to pay tribute to the late actresses at their memorial on Thursday (Jan. 5).
Over 120 guests gathered to honor the Star Wars and Singin' in the Rain alums at their compound in Beverly Hills, including A-listers Meryl Streep, Gwyneth Paltrow, Meg Ryan, Richard Dreyfuss, Candice Bergen, Penny Marshall, and Buck Henry.
According to a family friend who spoke with PEOPLE, Oscar winner Meryl performed Carrie's favorite song, Happy Days Are Here Again, in addition to delivering a touching eulogy alongside Tracey Ullman and Stephen Fry.
"By the end, everyone was singing," the source said.
Carrie's daughter Billie Lourd reportedly held the star-studded memorial in the hopes of having "the people her mother loved to gather in that living room one last time."
The attendees, which also included Carrie's brother and Debbie's son Todd Fisher, Carrie's half-sisters Joely Fisher and Tricia Leigh Fisher and ex Bryan Lourd, were fed the exact same food that Carrie made when she hosted guests — a menu of fried chicken, cornbread, and collard greens.
"All the tributes circled back to Billie and how much Carrie loved her," the family friend told PEOPLE. "The only things missing were Carrie and Debbie. Debbie would sit in the corner, and everyone there would come up and pay homage. Even the biggest stars were starstruck by her. Carrie would walk around barefoot with a can of Coca-Cola, making sure everyone was having a good time, saying the funniest things you've ever heard."
Mother and daughter, who both died one day apart, will be buried beside each other today (Jan. 6). ~Shelby Morton
Inset photo © Clinton H.Wallace/Photomundo International/Keystone Press via ZUMA Press