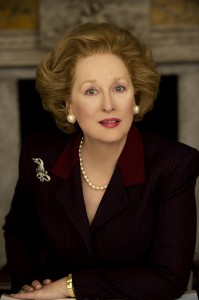 She's  hailed as the best actress in Hollywood, and known for being able to transform into any character she tackles, so it's no wonder that Meryl Streep has taken on the role of one of Britain's most controversial individuals, former Prime Minister Margaret Thatcher.
Based on some early reviews, The Iron Lady – based on Thatcher's life – is already causing some debate indicating that story is not depicting her properly.
The Iron Lady movie follows both Thatcher's person and professional life, including her rise to the top becoming Britain's Prime Minister.  "She was never, in my experience, the half-hysterical, over-emotional, over-acting woman portrayed by Meryl Streep," said Norman Tebbit, a member of her cabinet and former Conservative Party head, wrote in the Telegraph of London.
"I can't see the point of this film," Lord Bell, one of Thatcher's key PR advisers told the Telegraph. "Its only value is to make some money for Meryl Streep and whoever wrote it. I have no interest in seeing it. I don't need a film to remind me of my experiences of her. It is a non-event… It won't make any difference to her place in history of the fact of what she did."
But for the Academy Award-wining actress, playing Thatcher – who broke gender barriers – was an honour. "It was one of those rare, rare films where I was grateful to be an actor and grateful for the privilege of being able to look at a life deeply with empathy," Streep said. "There's no greater joy."
Streep stressed that politics played no part in her portrayal. "I still don't agree with a lot of her policies," she said. "But I feel she believed in them and that they came from an honest conviction, and that she wasn't a cosmetic politician just changing make-up to suit the times. She stuck to what she believed in, and that's a hard thing to do."
Although the subject matter of the movie is causing uproar, early reviews of the film are giving praise to Streep's performance, solidifying her status as a fearless actress in Hollywood. But isn't it always the most controversial films that are the most enticing?