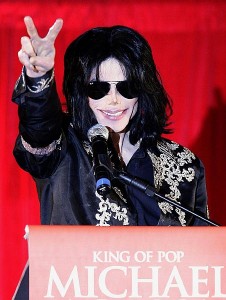 The queen size bed that the late king of pop, Michael Jackson, slept in is soon to be up for auction. Amongst other items up for auction from Jackson's California mansion are various antique furnishings, as well as paintings and sculptures. A kitchen chalkboard with the message: "I [heart] Daddy. SMILE, it's for free," presumably written by one of Jackson's three children, Prince, 14, Paris, 13, and Blanket, nine, is to fetch an estimated $400.
The Associated Press reports: "The room looked perfect, like a hotel room awaiting its first guest. There was no sign that anyone had struggled there with insomnia or drug addiction, certainly no sign that anyone had died." Added celebrity auctioneer Darren Julien, president of Julien's Auctions: "We want to preserve the history of these items," which next month will sell the various hundreds of items that surrounded the King of Pop in his final days,"
Separately, Jackson's mansion – which he rented for $100, 000 per month – is also up for sale for approximately $28 million.
Jackson's bed was in the second-floor bedroom where the entertainer died in 2009. The day the auction was announced, his personal doctor Conrad Murray was convicted of his manslaughter
The auction is set to take place on December 17 in Los Angeles.