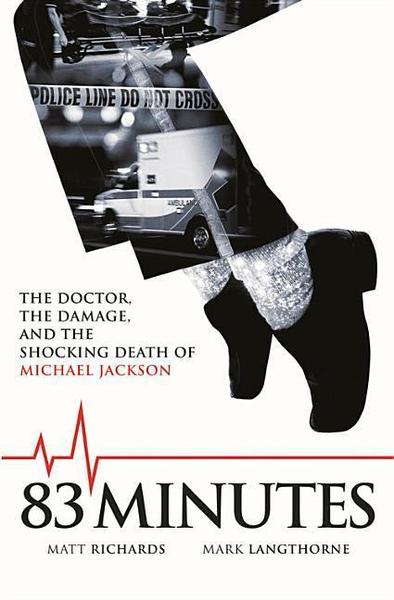 If you asked me two weeks ago if I thought Michael Jackson was a pedophile, I would've answered unequivocally: Yes. But now, as of this very moment, I'm not so sure. This change of heart comes after reading the biography/parable/murder mystery 83 Minutes: The Doctor, the Damage, and the Shocking Death of Michael Jackson, written by Matt Richards and Mark Langthorne.
83 Minutes is a painstakingly comprehensive account of the last days of Michael Jackson's life, specifically the unaccounted 83 minutes before the 911 call that sent him to Ronald Reagan UCLA Medical Center, where he was eventually pronounced dead at 2:26 p.m. on June 25, 2009.
The book delves into Jackson's twisted childhood with The Jackson 5, his meteoric rise to fame with the Thriller album, and his spectacular fall from grace — molestation scandals, plastic surgeries, catastrophic financial decisions and, most importantly, his prescription drug addiction. A drug addiction that would directly contribute to his death at age 50.
But there's another contributing factor that led to Jackson's demise. Or rather, who led to his demise — a Grenada-born cardiologist by the name of Dr. Conrad Murray. A man whose name is now inextricably linked to Jackson's. The book explores this enigmatic man's life — his myriad infidelities, his familial and financial troubles. It also uncovers how these two very different men came to know each other, and how exactly Dr. Murray would become the last person to see Michael Jackson alive.
Richards and Langthorne expertly researched almost every detail of Jackson's 50 short years of life, and every key player who loved, enabled, used and abused him. I was enlightened to a lot of things about Jackson's life that I never knew. Or perhaps, never took the time to find out.
The authors have clear opinions on what they believe happened that June morning in Jackson's Los Angeles home, but remain completely objective when presenting the facts of what actually did happen. And, boy, there are some interesting facts. No spoilers, but it's all pretty graphic. And it's obvious that Richards and Langthorne sympathize with Jackson. But, to their credit, Dr Murray is not painted as the cut-and-dry villain to Jackson's helpless victim. I didn't come out of this thinking "Dr. Murray is an evil man who murdered a poor, naive Michael Jackson." And that's a testament to not just good writing, but good journalism. Jackson was just as much a victim of his life's circumstances and his own foibles as he was of the misguided doctors who supplied him with the drug — namely Propofol — that killed him. And when all is said and done, we still don't 100 percent know what happened in that bedroom. I'm not sure we ever will.
But Jackson's death was not the most fascinating part of him — it was his unique perspective on music, manhood, children and the world. The authors do a remarkable job of tying in every stage that led to who Jackson became, as an artist and as a person. And how almost every one of those stages pointed towards doom.
I said before that this book has changed my mind on a pretty significant portion of Jackson's life. I was set in my belief that he molested those children. The justification was that he always settled out of court. What innocent man in his right mind would do that? But that's just the thing — Jackson was never in his right mind.
I can't say he wasn't inappropriate with children and I can't say that nothing suspicious ever happened at the Neverland ranch. But was he a classic pedophile with malicious intent to sexually abuse children? There's no longer a doubt in my mind that he was not. And that's another mark of a successful book — forcing your reader to consider their preconceived notions and maybe even change them altogether.
Jackson suffered physical and emotional abuse at the hands of his father Joe, and spent most of his childhood performing at the hands of a dictator. Success came quickly and easily because of his once-in-a-generation talent. But with money and fame comes leeches. A series of blood-sucking "Yes" men who used Jackson for their own personal gain. There was no way for Jackson to differentiate between the reality of adulthood and the cushioned world in which he was allowed to remain a child forever. And, naturally, surrounding himself with children was the key to that world.
More than anything else I feel like I understand Jackson now. He wasn't a man. He was never given the opportunity to be. And almost seven years after his death, the question of whether or not he was murdered by Dr. Murray or a larger, more sinister entity is almost irrelevant. It's who he was and the music he left behind that should, and will remain.
There are certainly problems with this mostly stellar work of non-fiction. It tends to meander, oftentimes diluting the intrigue with just too much detail and too many facts. They easily could've trimmed at least 50 to 75 pages of names, numbers, dates, drugs and other repetitive information. When the authors start to examine Jackson's astonishing financial problems and the revolving door of characters involved, I found my attention wandering.
But, despite this, I kept reading. Not because I had to, but because I was already all in, utterly consumed by the fable that is the King of Pop's life.
Each chapter of 83 Minutes begins with a quote from the J.M. Barrie classic Peter Pan, a tale that eerily mirrors one ageless existence with another. It's perhaps the first chapter that best summarizes the tragic life of Michael Jackson:
"All children, except one, grow up."
~Shelby Morton