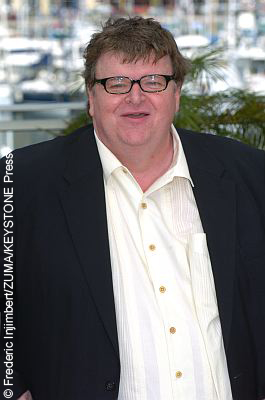 American movie director Michael Moore is no stranger to controversy. Just watch his movies Bowling For Columbine or Fahrenheit 9/11. However, now Moore is in the hot seat due to Clint Eastwood's American Sniper.
American Sniper is a war-drama about United States Navy SEAL Chris Kyle. Kyle is said to be the most lethal sniper in U.S. military history with 166 kills out of a possible 255.
Moore made headlines after tweets he posted (scroll down to see tweets) went viral and caused social media uproar. In response to the criticism about what he wrote, Moore went on to post that he "never tweeted 1word bout AmericanSniper/ChrisKyle." Moore also took to Facebook to address the topic in a lengthy post that includes:
Lots of talk about snipers this weekend (the holiday weekend of a great man, killed by a sniper), so I thought I'd weigh in with what I was raised to believe about snipers. My dad was in the First Marine Division in the South Pacific in World War II. His brother, my uncle, Lawrence Moore, was an Army paratrooper and was killed by a Japanese sniper 70 years ago next month. My dad always said, "Snipers are cowards. They don't believe in a fair fight. Like someone coming up from behind you and coldcocking you. Just isn't right. It's cowardly to shoot a person in the back. Only a coward will shoot someone who can't shoot back."
Addressing the criticism, he went on to add: So here's what I think about "American Sniper":
Awesome performance from Bradley Cooper. One of the best of the year. Great editing. Costumes, hair, makeup superb!
Oh… and too bad Clint gets Vietnam and Iraq confused in his storytelling. And that he has his characters calling Iraqis "savages" throughout the film. But there is also anti-war sentiment expressed in the movie. And there's a touching ending…
Most of us were taught the story of Jesse James and that the scoundrel wasn't James (who was a criminal who killed people) but rather the sniper who shot him in the back. I think most Americans don't think snipers are heroes.
Hopefully not on this weekend when we remember that man in Memphis, Tennessee, who was killed by a sniper's bullet.
American Sniper is Eastwood's biggest opening debut, raking in $119 million so far and just over $90 million in its debut weekend. ~Sandra D. Sukraj
My uncle killed by sniper in WW2. We were taught snipers were cowards. Will shoot u in the back. Snipers aren't heroes. And invaders r worse

Michael Moore (@MMFlint) January 18, 2015
Oh, and Iraqis are called "savages" throughout the film. Michael Moore (@MMFlint) January 19, 2015