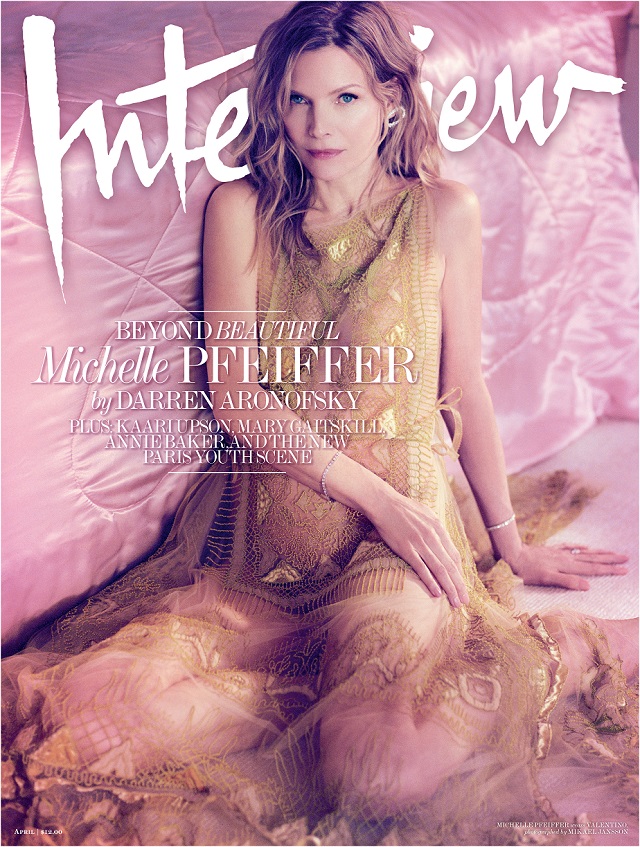 Michelle Pfeiffer graces the cover of Interview's latest issue in stunning fashion. She's breathtakingly beautiful and the images displayed of her in the magazine are striking.
However, in her interview with director Darren Aronofsky for the publication, she reflects on some heavy issues. Among them is her experience shooting Scarface, the 1983 Brian De Palma crime drama that also served as her breakout project.
In the film, she plays the drug-addicted trophy wife of a gangster (Al Pacino). As she shares with Darren, the role and the shoot took a toll on her.
Addressing her performance, Michelle says, "How'd it happen? I'm very willful… I'm a survivor. It's in my nature. I don't look so tough, but I am. And I think I was able to hide behind the tough exterior of that character, who was just sort of tuned out and tuned off, drugged."
She digs deeper: "I can tell you that I was terrified. And it was a six-month shoot, I think. Mary Elizabeth Mastrantonio and I were really the only females. It was a boys' club. And it was also the nature of the relationship, for Tony Montana to be very dismissive of my character. So I would go to sleep some nights crying."
But throughout her discussion with Darren, the Golden Globe winner and three-time Oscar nominee also explores some lighter subjects.
While opening up about her return to acting and her upcoming works, which include Darren's Mother!, Kenneth Branagh's Murder on the Orient Express, and HBO's The Wizard of Lies, Michelle says, "I've never lost my love for acting."
She adds, "I feel really at home on the movie set. I'm a more balanced person, honestly, when I'm working… I'm more open now, my frame of mind, because I really want to work now, because I can."
Michelle, 58, delves into other areas with Darren as well. She talks about her kids; her "weird synchronicity with Annette Bening;" one of her Oscar-nominated films, The Fabulous Baker Boys; her Southern California upbringing; and how she decided to become an actress.
Read the full discussion between Michelle and Darren here.
What's your favorite Michelle Pfeiffer performance? Which of her upcoming projects are you most excited about? ~Matthew Pariselli