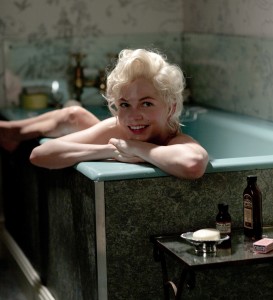 Michelle Williams channels famous icon Marilyn Monroe in My Week with Marilyn.
Many actresses have attempted to play her and many women – and men – are still in awe of her mystique and undeniable sex appeal. No matter what the case, there's no denying the late Marilyn Monroe's star power.
But for Oscar-nominated actress Michelle Williams, having the opportunity to play Monroe on the big screen in My Week with Marilyn didn't seem like a huge deal at first, until "buzz" started to circulate. "I took it like I was just taking on another role," Williams said at the movie's premiere during the New York Film Festival. "But it wasn't until the release of the movie and the attention around it when I thought, 'Oh boy! That's a lot of expectation.'"
"As soon as I finished the script, I knew that I wanted to do it, and then I spent six months trying to talk myself out of it," she told Vogue. "But I always knew that I never really had a choice. I've started to believe that you get the piece of material that you were ready for My Week with Marilyn is not a biopic but a snapshot during a time when Monroe was in England filming The Prince and the Showgirl in 1956 with Sir Lawrence Olivier (Kenneth Branagh). While on set, Monroe met Colin Clark (Eddie Redmayne) who was an on-set assistant with big dreams. Throughout filming, Clark wrote each day's events in a diary. Forty years later, Clark's book The Prince, the Showgirl and Me was published, but with one week missing – the week her husband at the time, playwright Arthur Miller (Dougray Scott), left England.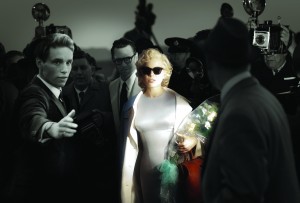 While Miller was gone, Clark – who ultimately fell in love with her – introduced Monroe to some of the pleasures of British life during a week filled with fun and freedom for a star who was desperate to get away from her retinue of Hollywood hangers-on and the pressures of work and fame.
To bring her even closer to the original blonde bombshell, Williams watched every movie; listened to any sound bites she could find and surrounded herself with pictures of the troubled star. "I'd go to bed every night with a stack of books next to me," Williams told Vogue. "And I'd fall asleep to movies of her. It was like when you were a kid and you'd put a book under your pillow hoping you'd get it by osmosis."
But it also helped to be in the same locations as Monroe. "There were so many little parallels along the way that sort of gave you courage. I used the same dressing room that she used at Pinehouse [studios] when she was filming at Parkside House where she and Arthur Miller stayed, so there were a lot of these parallels," Williams revealed at the New York premiere.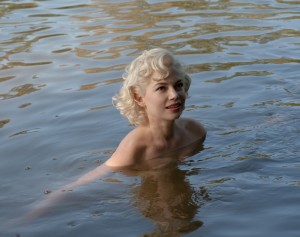 "Everybody has their own idea of who Marilyn was and what she means to them," Williams said. "But I think that if you go a little bit deeper, you're going to be surprised by what you find there. Her deepest desire was to be taken seriously as an actress, but she doesn't really shine in her serious roles. Where she happens to shine is in comedy and in song and dance, but she denied that. She essentially said, 'It's not what I'm good at.' She didn't know it, but she clearly was incandescent."
-By Toni-Marie Ippolito