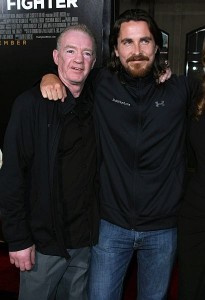 Dicky Eklund and Micky Ward talk about their lives after The Fighter and what they really thought of Mark Wahlberg and Christian Bale's performances in the movie.
Christian Bale rarely disappoints when it comes to giving his all to the characters he plays on the big screen, and his role as Dicky Eklund in The Fighter took things even further for the actor earning him a Best Supporting Actor Oscar this year.
Bale's acceptance speech was touching as the star gave a shout-out to the man he portrayed in the movie, Dicky Eklund, who was seated in the crowd. "You're the best. He's had a wonderful story and I can't wait to see the next chapter of his story, you know? If you wanna be a champ, if you wanna get trained with him go meet with him. Dickeklund.com, go do it. Check him out, ok. Alright, he deserves it."
Proving the power of Hollywood, Bale's shout-out caused quite a crash. Kerry Eklund, Dicky's daughter and publicist, told TMZ that Bale's shout-out to Dicky's website drove a ridiculous amount of traffic to its site causing it to jump from about 500 hits to nearly 10,000. Kerry said Dicky is ready to take his training schedule to the next level.
When asked about whether or not he thought Bale would win the Oscar, Eklund told the Examiner.com: "I had no doubts that he would win it. It's a good feeling, a good experience for me and for Micky, too."
Eklund admits that at first, he didn't like The Fighter. "My part isn't such a good part, but I guess I wasn't such a good boy," Eklund told the National Post. (Ekland's battle with crack was documented in the movie and in the 1995 HBO documentary High on Crack Street: Lost Lives in Lowell.) "Christian said the same thing—that if it was him, he'd feel the same way. When the movie started, it was just about me and I asked, 'Can Micky be in it? Then Paramount grabbed it and then all of a sudden it's the Micky Ward biopic and Micky's brother Dicky smoking crack."
Although The Fighter is an uplifting story about Micky Ward's rise in the boxing arena despite family hardship, Ward, the youngest of nine siblings, admits that some scenes were hard to watch on the big screen, particularly the one in which Micky defends his brother from the cops. "It's kinda hard to see that," Micky told the Mirror. "It was a bad time, and seeing your life up there on a movie screen is surreal, especially because Mark and Christian did such an incredible job."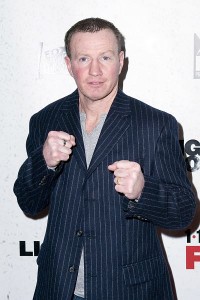 "Dicky and I moved in with Mark for a while," Micky said. "He watched me every day to get my mannerisms. Mark trained so hard—I think he could fight for real if he wanted. He's got a great left and strong chin. We sparred a bit and he gave me a good uppercut! Christian was amazing too, we've all gotten to be friends."
Micky and Dicky still live in Lowell, where Micky works as a truck driver for the movie industry and has opened his own gym, where he and Dicky coach young fighters. Being mindful of his tough upbringing, he has set up a charity to help needy families in his community.
The brothers, even after the success of The Fighter, still maintain that competitive edge that always sparked a fire between them. "I don't ever know what Dicky's going to do, but what the hell? That's my life," Ward to the National Post. "We've been together through the good and the bad and now things are positive," added Eklund. "I love my brother to death."
The Fighter is out on DVD March 15th.
—Toni-Marie Ippolito