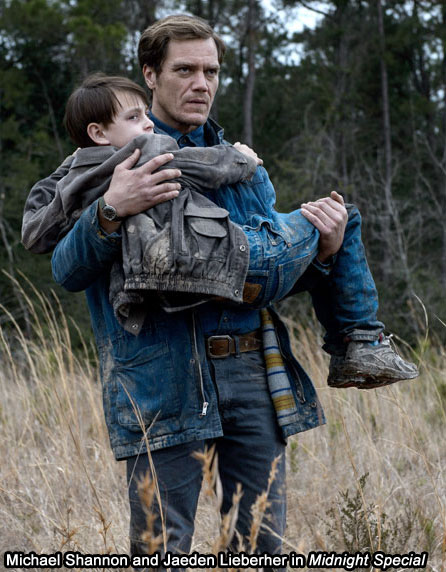 Jeff Nichols (Mud, Take Shelter) is the screenwriter and director of the new Warner Bros. sci-fi film Midnight Special, starring Michael Shannon, Joel Edgerton, Kirsten Dunst, Adam Driver and Jaeden Lieberher. The movie is about a father who's trying to protect his son, Alton, who was born with special gifts that no one fully understands.
Jeff's previous films include the critically-acclaimed Mud starring Matthew McConaughey and Reese Witherspoon, and Take Shelter starring Michael Shannon and Jessica Chastain. 
We met with Jeff Nichols in Toronto to talk about his latest film, Midnight Special, which opens in limited release Friday, before expanding on April 15.  
Jaeden Lieberher, who plays Alton, is an incredible young actor – is there a special way you work with child actors to produce such an amazing performance?
It's not so much about the way I work with them on set – it's more about the auditioning process. Which, in Jaeden's case, took about five to 10 minutes. When you meet a young actor like that, you have an idea of what the part requires in your mind. From speaking with him, I quickly realized he had an innate understanding of his place in the situation that he was in. I knew as a character, there's a point where this character has to wake up. He has to be aware of his place in the universe. That's a tricky thing for a young person to do. And I saw it in him. He's extraordinarily intelligent. I knew that he could pull off the back half of the film. And if he could do that, I'll take care of the front half. Which is to mute his character. You just put him nose down into a comic book, you just make him very childlike and as simplistic as you can. And then at some point, all that intelligence is going to turn on. When Jaeden walked into the room, that intelligence was already there. So by the time we got to set, he just read the scenes, he read the moments, he understood them and he just started to execute them. He's an extraordinarily gifted young guy.
How did you come up with the premise for this movie? Where did the inspiration come from?
When I write, I write on two different tracks. I write on a genre track, which is kind of the plot stuff. It's the fun stuff – the car chases, the gas station blowing up, that kind of thing. But that's really a hollow, superficial kind of thing. The plot itself is not a movie, in my opinion. The actual story comes from the emotional track, this thematic idea. And what I've done over the course of my other films is I've always tried to find some emotion that's palpable, something that I can feel every day when I go into the room to write or when I go into the editing room to cut. For my first film, it was about the loss of one of my brothers. For my second film, it was about the anxiety and fear of not being a good husband. For my third film, it was about the loss of first love. And for this film, it was about the loss of my child. That is an intense feeling that anytime I needed to, at any part of the process, I could check back in with and it would be there. I think once I became a young father and defined what it meant to be a young father, that's what really dictated where the story would go and what Mike Shannon was doing through the whole movie.
Are you speaking theoretically when you say the loss of your child?
Yes. When my son was eight months old, he had a febrile seizure, which is a reaction to a spike in fever. Happens to about one in a thousand kids, doesn't have long-lasting effects but it was terrifying for my wife and I. As a young father, in that first year you're sleep deprived and you're just trying to deal with this new reality. Your whole life has turned upside down and you're just kind of dealing with the day to day. But then this illness happened and I was very much struck by the fragility of this child and by the fact that that would devastate me. It's like this wound opens up in your side and you know it's never going to heal, it's always going to be open to damage. And you have to still function. You still have to raise this child and you still have to go to work but you have this wound and I didn't know how to deal with that. And I started to think, well how do I handle this? When you have a fear like that, your initial reaction is to try to take control of your child's environment. But that's ridiculous. We know that won't work. I can't project my desires on this boy, because look at this febrile seizure. I have no control over this. So why am I here? Well, I think I'm here as a parent to define who my child is. To understand who he's growing up to be. Help him understand who he needs to be. And that's what Mike Shannon's character does in the movie. He doesn't know what his child is going to be, none of us do. But he's desperately trying to decide what he needs, and help him get there. And so this silly kind of sci-fi chase movie that I created, now feels tangible to me. It feels like there's an emotion in it that's relatable.
This is your first studio movie – did you find any difference in the filmmaking process?
Not in this particular instance, but the circumstances of how we set the project up is what I think dictates that. I was very clear, the script was already written. I went in with Mike Shannon attached. And I said, this is how much money I need. This is the cast I want. This is the crew I want. This is the deal. And luckily they said yes. So there was really no opportunity for them to tinker with it on the front end. Now of course when you get into post production, you just have to be true to what the original fundamentals of the script were. Just because you get to the end, and you hear people say, "Wouldn't it be great if it was this kind of movie, or the movie did this," and I'm like, "Maybe. But that's not the movie we made. And you all knew it. So, we're not going to change the foundational elements of this film. Now we can make things better, we can clean things up in the margins, but this movie is meant to operate this way and if you start messing with that, it's not going to please anyone." To his credit, Greg Silverman, the head of Warner Bros., very much realized that. I think I was really lucky that I had a studio that was supportive and I was making it at a budget that was low enough that they let me stick by my guns.
Can I ask you – what is Alton exactly, is he an alien?
I don't know if he really is an alien. That might not be an appropriate description of him. I think he's a conduit. I think he's a boy that is connected to things that most people aren't connected to. That's the way I always saw him. I didn't see him DNA wise as being made up of anything we're not made up of. I just felt like he was tied into something that we aren't always tied into. And so genetically speaking, he's made up of the same stuff his parents are made up of but for whatever reason, he has an added consciousness or perception of things. But at the beginning of the film, he doesn't understand that. He hasn't arrived at this awareness of that extra consciousness so even as a character, at the beginning he's really just a kid but he has these things inside of him that he needs to accept, he needs to fully embrace. And once he embraces what he's meant to be, that's when he becomes healthy. That's when he starts to thrive.
Can you tell us about your next movie, Loving?
Loving is based on a true story that happened in the United States in 1958. An interracial couple married – Richard and Mildred Loving. That was against the law at the time where they lived – the police broke into their house and arrested them, threw them in jail and sentenced them to a year in the State penitentiary, but that was suspended with the understanding that they be exiled from the state of Virginia for 25 years. And these two very, very simple people from this small agricultural community didn't really realize this maelstrom that was happening around them. They just wanted to stay together and get home. It's this really simple, really beautiful love story.
Thank you for sharing that with us!
Thank you, it was my pleasure.
Midnight Special opens in Toronto, Montreal and Vancouver this Friday, April 1st and in select cities on April 15, 2016.