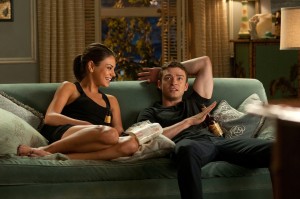 As they prepare for their first lovemaking session, Justin Timberlake takes one look at a naked Mila Kunis and says nonchalantly, "I can work with that!" Kunis gives an approving nod towards a nude Justin and says, "Should be fine." And with that, they begin their "friends with benefits" relationship.
The breezy fun of Friends With Benefits relies heavily on the quick and sexy interplay between Timberlake and Kunis. They play Dylan and Jamie, professionals who have little or no time in their lives for real romance. And while they may be physically hot, they happen to be emotionally unavailable. So the pair decide to embark on a sex-only relationship. It's fun, it's satisfying, it's lighthearted…and then it gets complicated.
Of course, filming love scenes means shooting lots of nude scenes, which most actors agree, isn't nearly as much fun as it looks. So, to make Kunis and Timberlake comfortable with each other, the filmmakers decided to film the intimate scenes at the end of the shoot. "We figured that by then we'd really, hopefully, be friends, which is what happened," Kunis told Vanity Fair. "There's like 150 crew men watching, and you see each other's bits and pieces. The whole thing is just wrong!" she told Ellen Degeneres.
As for Timberlake, he doesn't expect to drop his pants for the camera very often. "It was fun, but I can't say I'm going to be butt-naked in a movie again," he told Vanity Fair. "I only did it because I'm young now, and everything's where it's supposed to be. I figured  this is the time, before gravity gets the best of me."
The movie also boasts a stellar supporting cast, including Woody Harrelson (as Dylan's straight-talking gay friend) and SNL's Andy Samberg (as Kunis' ex), as well as Emma Stone, Thomas Haden-Church and Patricia Clarkson. Stone plays Justin's ex and the amazing Patricia Clarkson shines as Kunis' brash, sexually adventurous mother.  Writer/director Will Gluck (Easy A) was mindful when putting together such a stellar cast, and he knew exactly whom he wanted for each character.  "I wrote it for Justin and Mila," Gluck told Moviefone.com. "I wanted to do more of an adult movie about sex, too,  and about relationships."
Gluck admits Timberlake was fun to work with and was a no-brainer to cast for his natural ability to entertain people. "He sings everything," Gluck told MTV. "He sings when we're waiting to shoot, he sings when he's pointing out paparazzi, he always sings everything. The funny thing is, unlike other people humming, every time he sings, you're like, 'That's Justin Timberlake!' He's singing a song about 'the boom just hit me in the face!' and it could be a pop song if he does it right."Onstage at this year's MTV Movie Awards, Timberlake and Kunis did effective (and hilarious) promotion for the film by insisting they were just friends – and to prove it, they grabbed each other's private parts to show there was nothing more than platonic friendship between them. As they deadpanned from the stage, the moment was funny – and the obvious.
Check out the Friend With Benefits trailer.
– Tom Jokic