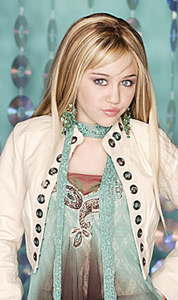 She is the hottest thing to hit the circuit in years. Fifteen-year-old Miley Cyrus, known to millions as her alter ego as "Hannah Montana" is currently on a concert tour that recently landed her in Toronto,( the ONLY Canadian stop on the tour..)
This acting, singing, dancing sensation took a few minutes to talk to Tribute's Bonnie Laufer about her busy life and all of the attention she is getting.
It must feel pretty amazing to know what a positive role model you are for millions of young kids out there!
M.C: Well, thank you. I really try with the show and my concerts to let kids and parents know that I really am just a down home girl with good values and work really hard at what I do.
Did you ever imagine that when you started "Hannah Montana" that it was going to be as big as it has become?
I really didn't. It's pretty crazy because it's a character that I invented and then when we went to Disney with the idea it really just evolved into what it has become. I really got to take the character, invert her and add my own flare to her, so to see all of that happen I think is really cool!
It must be so awesome for you to have your dad (Billy Ray Cyrus) along for every step of the way? It's pretty fantastic that he gets to play your dad on the show.
It is really cool actually. A lot of people ask me, isn't it a pain to have your dad around so much? I say no way, it's actually the coolest thing because I'm always safe and protected and loved and that's the best. Plus he is always there to give me advice and help me with this business because he's been thorough it.
I would think having both your parents around so much helps keep you grounded, keep your head right on your shoulders with this whirlwind that is going on with you right now?
Yeah, definitely. Too have them and my whole family around to make me feel normal is so important. It is a huge help.
I think being back here in Toronto has to bring back some special memories for you.
It does.
After all, this is the city where it all started for you. Your dad was shooting the TV series "Doc" here and it was then when you were nine years old told him you wanted to act.
I lived in Toronto for some of the most important years of my life. You do the most growing when you are about 8 to 12 and those were the years that I was here. I went to middle school and I met so many really cool people,
When did you know you wanted to try acting?
It was weird because of course my dad always had a music career, but didn't get into acting until her started doing "Doc." So I guess it wasn't until I was in that environment that I thought it would be something cool to do.
Music had to be a big part of your family life?
Oh yeah it was, but I started with a coach here in Toronto. I took singing and acting classes to make myself better because I really wanted to take it seriously and I didn't want people to think that I was just getting a break because of my dad.
Then you get the show, and then spirals into something huge and then you decide you want to take your singing act on the road. Miley- it is the biggest and hottest selling concert tour on the road right now!
I know, it has surpassed anyone's expectations!
How do manage to keep your head on your shoulders amidst all of this craziness?
I never expected this. My mom always says if my head weren't attached to my neck I would love it because literally so much is going on that I have no time to think about anything. I just constantly have to be on my toes and do whatever is needed at a moments notice.
So how do you manage it all? You are only 15! When do you have time to be the real "Miley?" Not Hannah.. not the stage Miley – but real girl – Miley Cyrus?
Usually on my tour bus., right now anyway. I like to hang out with my family and sometimes my good friends get to come along.
Does it ever get overwhelming?
Sometimes, sure, but I am pretty good about taking breaks. I know when its time to step aside and chill out.
What's the most exciting thing about being on the road?
The constant go, go, go! I love it!! I really don't have a second to think and I think that is so much fun! There is always something to do, I'm being pushed and being challenged and I really enjoy that part of my life.
It is truly amazing that some people will pay up to $2500.00 for tickets to see your show! That's unbelievable!
Yes, it is. I was shocked when I heard that one!
Is there anyone YOU'D pay $2500.00 to see in concert?
To be honest, no. That is a lot of money. I am truly flattered that people want to see me in concert that bad. I mean my show is good, but it's not that good!! ( laughs) !
Toronto was your ONLY Canadian stop on your tour. You have some pretty amazing and devoted fans here.
I wish we could have added more, but Toronto has been so good to me there was no way I wasn't going to stop here. I think the fans here are amazing.
What's the one thing that your fans would be the most surprised to find out about you that they don't already know?
Something that they'd be surprised to find out about me is that I'm a tomboy! Even though I look all-girlie and act girlie, in reality at home I am such a tomboy. I like to mess around and hang out with my brothers, that is the most fun for me!
I know that your parents keep a real good eye on your and try to raise you to be as "normal" as possible. You do something wrong, you get grounded!
Yes, that's true. My mom can be pretty strict some times. I do get grounded, all the time!
Did your mom take your phone away once? That's got to be the worst punishment for a 15-year old girl!
I hate it. Yes, she took away my phone, my computer privileges, TV ( although I don't watch a lot of TV so that one was OK) but mostly the computer and the phone are the first to go! ( laughs)
You have a lot of things coming up, but one thing I want to ask you about is your 3-D concert movie coming out in February. Have you seen yourself in 3-D?
Actually, I have. I got to see it. Pretty cool!
Wow – can you tell me a little bit about what that experience was like?
I as so critiquing myself. I was like, ewww… Miley what is going on with your face? I was making all these weird expressions when I was singing. When I hit those high notes I have to open my mouth really wide just to make a sound so when it is in 3-D it looks so ugly! It really isn't very glamorous to sing because you have to make all these funny faces to make it sound like the record. You really want to sound the best you can so you have to make all these disgusting faces. So when I saw it in 3-D I was like, oh my gosh, if that is what I really look like up close that's terrible. It was totally freaking me out!
Now a "Hannah Montana" movie, is that also on the agenda?
Yes, after the tour is done. We are aiming for late next year or 2009.