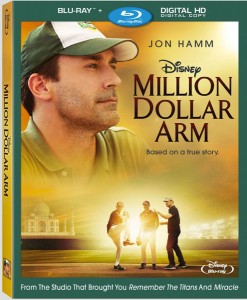 From the studio that has perfected the formula for feel-good inspirational true stories, comes their latest film, Million Dollar Arm, starring Mad Men's Jon Hamm. The film tells the story of J.B. Bernstein, a down-on-his-luck sports agent who flies to India to find potential baseball pitchers and open up a brand new market for baseball. He starts a successful reality show titled Million Dollar Arm and discovers the pitching talents of Rinku Singh and Dinesh Patel. He brings the two men to America so they can be trained by professional coaches and potentially be scouted by a Major League Baseball team.
Million Dollar Arm is a by-the-numbers rehashing of the real story of Rinku and Dinesh, but that is by no means a bad thing. The film is exactly what audiences want and expect when they choose to watch a film that's toted as an inspirational true story. The biggest fault with the film may be the choice to use J.B. Bernstein as the main protagonist when the stories of Rinku Singh and Dinesh Patel overcoming nearly impossible odds become overshadowed by a man learning to become a better person. Regardless, Hamm's irresistible charm is one of the film's assets, as well as the spirited performances by Suraj Sharma (Life of Pi) and Madhur Mittal (Slumdog Millionaire).
The film is blessed with a musical score by A.R. Rahman, who previously won an Oscar for his work on Slumdog Millionaire. Rahman blends classic Bollywood style music into modern American scores to accentuate Rinku and Dinesh's journey and keep the Indian flare to the theme consistent throughout.
The Blu-ray is loaded with bonus features, including interviews with the real Rinku, Dinesh and J.B., where they retell their experiences while making the reality show and coming back to Los Angeles to train, and a look into the training Suraj and Madhur underwent to make the pitching scenes in the film look realistic. Other bonus features include outtakes, deleted scenes, an alternate ending and a feature on the music by A. R. Rahman.
Million Dollar Arm releases on DVD and Blu-ray on October 7. Also releasing this week – Edge of Tomorrow, A Million Ways to Die in the West, Obvious Child, Are You Here, Tracks, To Be Takei, Exil and Bates Motel: The Complete Second Season. ~Kelly Townsend