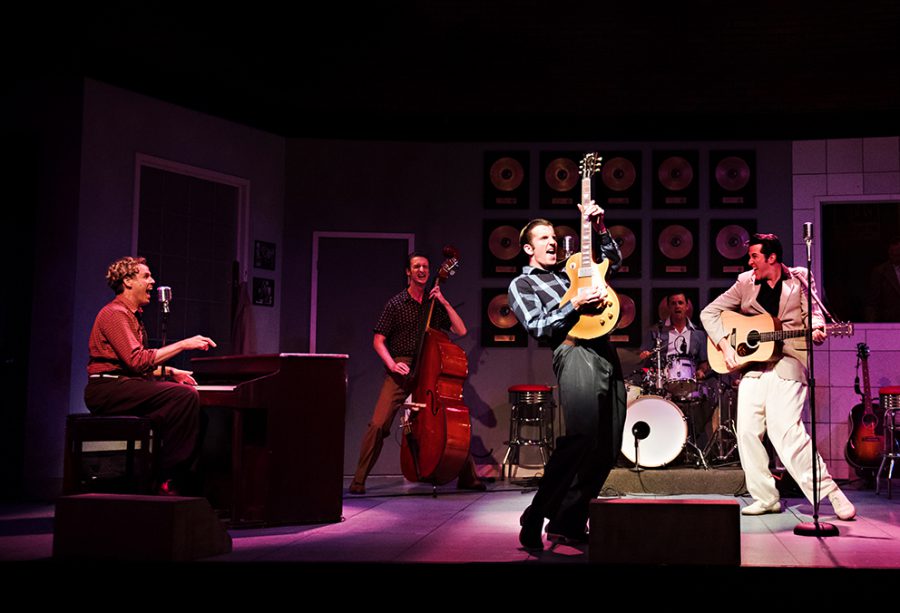 Million Dollar Quartet premiered this week at the CAA Theatre (formerly the Panasonic Theatre) and it is something any early rock fan won't want to miss.
Million Dollar Quartet brings to life the events of Dec. 4, 1956, when Sun Records played host to what is often called one of the greatest jam sessions of all time. It tells the story of how producer Sam Phillips (J. Sean Elliott) brought Elvis Presley (Matt Cage), Johnny Cash (Aaron Solomon), Carl Perkins (Tyler Check) and Jerry Lee Lewis (Gerrad Everard) all together for the first and only time. Simultaneously, Phillips ponders the next step in his career and tells the stories of how he brought each of the four men to their initial stardom.
It could be because I love anything with live music and I've got a deep interest in rock and roll history, but Million Dollar Quartet filled me with joy. I grew up listening to Elvis and I've always had a soft spot for Johnny Cash — seeing them come alive was something special to me. I don't think I've loved any live show as much as I did this.
The performances by the entire cast are incredible. The emotional rollercoaster that we watch Phillips take throughout the story is compelling. A man filled with such hope and faith in these boys has to deal with losing most of them to other companies, but sheer determination keeps him going.
I'm not as familiar with Jerry Lee Lewis and Carl Perkins, so I can't really comment on the performers' portrayals of the real people, but Everard brought a lot of light and fun to the role and never wavered in the way he played Lewis. With as over-the-top as the character is, it would have been easy to understand a momentary slip where he wasn't as exuberant or not quite as bright, but he kept the high energy level at full pace the entire performance.
Through Check's portrayal of Perkins, a lot of the heart is brought to the story. Throughout the show Perkins' frustration is felt. Not only is he surrounded by two of his peers who have found more mainstream success than he has, he also has to put up with Lewis — the guy he feels Phillips is replacing him with. Perkins is also putting up with the others being present during the session when he was supposed to record his next hit. To me Check's finest moment as Perkins is when he's breaking down over Presley getting more recognition for "Blue Suede Shoes" than he did. His performance is spectacular and poignant — it's one of the heaviest moments of the show and Check carries that weight perfectly.
Solomon's portrayal of Cash to me was mesmerizing, I often found myself watching him over the others because it really did feel like he could be the real thing. I legitimately was near tears when he played "I Walk the Line." It's worth noting that Solomon has played Cash before in a run of Johnny and June, so he's had a lot of time to perfect the role, which I'm sure adds to this performance.
It's no surprise that Matt Cage's portrayal of Elvis was spot on — he's played this role more than once and even appeared as the featured Presley in a Vegas production of All Shook Up: A Tribute to the King. Cage has had plenty of time to nail all of the signature Elvis mannerisms and it shows, so much that it almost feels like his natural state, even when Elvis is in the background of Million Dollar Quartet.
Laura Mae Nason as Presley's girlfriend Dyanne gives a performance to admire. Her rendition of "Fever" sent chills across my arms and she commanded attention as the only woman on stage. She also brings a lot of heart to the story as she talks to Phillips about Elvis wanting to work with him again.
Each song is so full of life and when the ensemble is singing together, it's a lot of fun. Million Dollar Quartet ends on a high note as the four men come back out in sparkling jackets and each play one of their character's most famous songs. The songs are all upbeat and each of them encourages audience participation — Elvis even flirted with the crowd a little, but that shouldn't come a surprise. With each of the final four songs I thought it couldn't possibly get more enjoyable, but they saved Jerry Lee Lewis for last and I was smiling so much I was probably not far away from having tears in my eyes.
Million Dollar Quartet runs until Jan. 7, 2018 at the CAA Theatre (formerly the Panasonic Theatre) and it's a show you don't want to miss. It's got a good story, great music and is all around a fantastic example of musical theater. Click here for tickets. ~Hayley Michaud