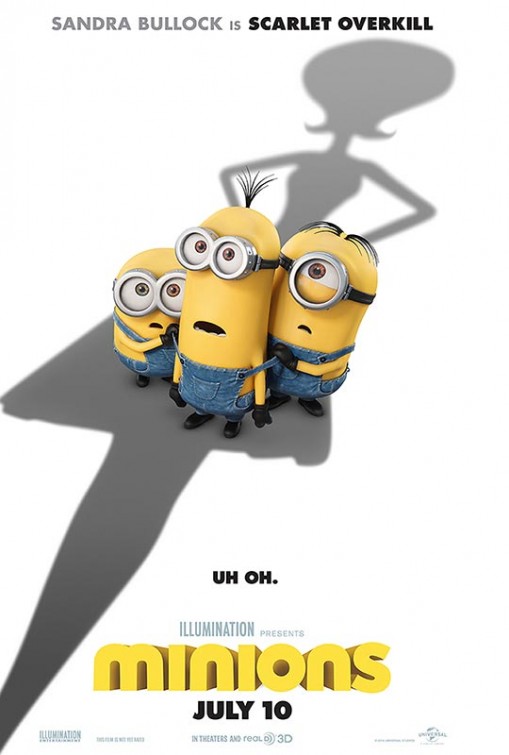 This week we have an offering of 10 tantalizing new trailers. Minions, the Despicable Me spinoff, leads the pack, while Michael Fassbender portrays American entrepreneur and Apple CEO Steve Jobs in the biopic of the same name. There's also We Are Your Friends, starring Zac Efron as a DJ trying to scratch his way to the big time. Check out the list and get a preview of some upcoming movies.
1) Minions
2) The Intern
3) Maze Runner: The Scorch Trials
4) Pixels
5) Pan
7) Steve Jobs
8) Manglehorn
9) Debug
10) American Heist
Minions are back and ready to tell their story. We take a look at where they came from and follow them on a journey to gain employment with the greatest super-villain of all time. That leads them to Scarlett Overkill, a stylish and ambitious villain looking to dominate the world. To satisfy their new boss the minions must work together to steal Queen Elizabeth's crown.

Jules Osten (Anne Hathaway) is a young entrepreneur and CEO of her own online fashion business in The Intern. Ben Whittaker (Robert De Niro) is her new intern who just happens to be 70 years old. In what is clearly an awkward situation Ben may prove to be just what Jules is looking for.

In Maze Runner: The Scorch Trials, a mysterious organization has forced Thomas and his team to navigate thorough a dangerous maze. However, the real challenge begins once they escape. Now, the fate of humanity rests on their shoulders.

Pixels pits aliens against humans in a battle for the planet. A time capsule filled with examples of human life and culture is sent into space with the hopes of reaching extra-terrestrial life. The message is received but interpreted as a threat and the aliens attack using video game characters as their army. Earth must now assemble a team of its finest gamers to help save the planet.

Pan tells the story of an orphan who is destined to become a hero. Peter Pan is kidnapped by pirates and taken to Neverland to work as a slave. Peter's necklace brands him a saviour and as such, he must defeat Blackbeard with the help of James Hook and tribal leader Tiger Lily.

Cole Carter (Zac Efron) and his friends want more out of life in We Are Your Friends. When the 23-year-old decides to chase his dream of becoming a famous music producer, his friends are by his side. Cole finds a mentor in a DJ named James, but things get complicated when he falls for James' girlfriend. Faced with a love triangle and a group of friends losing their faith, Cole's future is uncertain.

Steve Jobs is about the iconic mastermind who went from college dropout to technological pioneer. Jobs shows the life of the man responsible for the way we view computers today.

A heartbroken locksmith played by Al Pacino has a new lease of life after meeting a kindhearted bank teller (Holly Hunter) in Manglehorn.

In Debug, a team of six hackers are on a spaceship attempting to delete any rogue programs. While on their mission, they encounter an artificial intelligence system that is willing to kill to become human.

American Heist is about two brothers (Adrien Brody, Hayden Christensen) with a knack for getting into trouble. Although the younger one wants to go straight, he finds himself back in the thick of things when they become part of a high stakes bank robbery.