Misconduct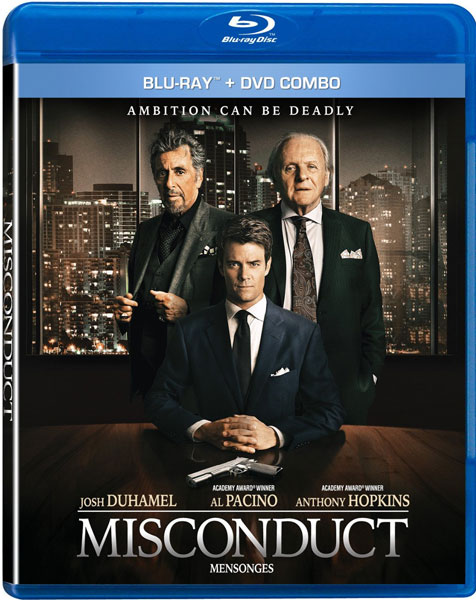 stars Josh Duhamel as Ben Cahill, a young lawyer who would like to become partner at the law firm where he works. When ex-girlfriend Emily (Malin Akerman) sends him a friend request on a site that resembles Facebook, he hesitates. He's married, but he and his wife (Alice Eve) are distant. He works late hours and she accepts extra shifts at the hospital. They rarely spend time together. 
He decides to accept the friend request and then gets a message from Emily, who wants to meet him. She's dating Arthur Denning (Anthony Hopkins), a corrupt pharmaceutical executive whose products have killed a number of people. Emily tells Ben she has information that could be used against Arthur, so Ben goes with her to her apartment to see the incriminating files. Big mistake, for several reasons.
The movie actually starts a week later, when Arthur gets a text with a photo showing Emily's bruised face. The text also says if he doesn't bring $2.5 million to an art gallery, Emily will be killed. He hires a security team to help in Emily's safe release.
What happens next affects all the main characters in this movie, so I won't give it away, but I will say this is a fast-moving thriller that never stops. You need to watch everything that happens carefully in order to figure out what's going on, because there are a lot of twists and turns.
The role Josh Duhamel plays is different from anything he's done before, and it was interesting to see him have some edge in this movie. He does a fantastic job of carrying the movie — the other cast members come and go, but Ben is the protagonist and as such, he's on screen almost the entire time.
Anthony Hopkins plays the villain effectively, as a mild-mannered man with very little surface emotion, and Al Pacino plays a senior partner at the law firm where Ben works — we don't get much insight into his character at first because he's in very few scenes, but towards the end Pacino gets a chance to sink his teeth into the role.
First time director Shintaro Shimosawa did a credible job with his debut movie. I really had to think about what had happened afterwards to fit together all the pieces.
Special extras on the Blu-ray are a handful of deleted scenes, one of which sheds some light on a question I had about Ben's best friend, and a featurette on the making of the movie.