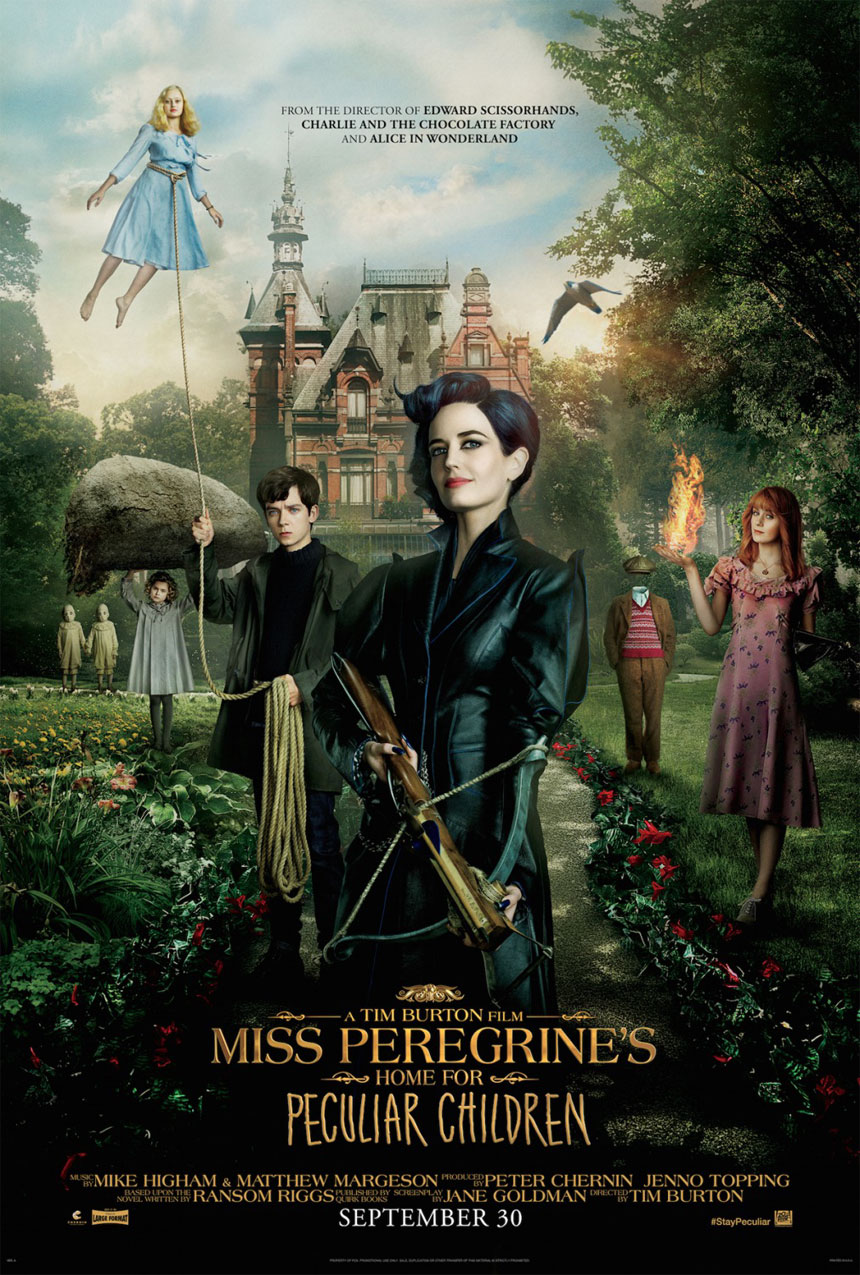 Having recently read the book by Ransom Riggs that this movie is based on, I was curious to see how Miss Peregrine's Home for Peculiar Children would translate to the big screen. After watching the trailers, I was worried the action would begin at the children's home in Wales, with Jacob accidentally stumbling upon it, but I was happy to find out I was wrong.
The movie begins like the book — with Jacob in America. Since he was a little boy, Jacob has been very close to his grandfather Abe. Over the years, Abe told the boy stories about a home for children in Wales where he'd lived during WWII — a special one, for magical children. He even had photos of these unique kids, and although Jacob believed the stories when he was younger, as he grew up, he stopped, believing the odd photos to be tricks.
When Abe dies, Jacob and his father (Chris O'Dowd) find letters in the old man's belongings from the headmistress — Miss Peregrine — at the home for children. Jacob convinces his dad to accompany him to the island so he can meet her.
The movie is highly imaginative and the distinct touch of director Tim Burton is felt throughout — the monsters we meet towards the end of the movie are definitely Tim Burtonesque. A few of the children's special gifts have been switched — especially Emma, who in the books can create fire in her hands. In the movie, her gifts are levitating and manipulating air.
However, the changes stay true to the overall effect of the book and in some cases, improve upon it. The ending is different, but I preferred it over the one in the book.
The special effects are well done — not extraordinary, but the invisible creatures who are visible to only a few are an interesting touch. The scene in which Emma blows all the water out of a submerged boat so Jacob and she can breathe is fascinating — as is watching Miss Peregrine morph into a bird.
Speaking of Miss Peregrine, Eva Green portrays a headmistress like no other, which is fitting for a home with children so different from others. She's not a strict, no nonsense headmistress, but neither is she a pushover. She's very definitely the children's authority figure, but she does it with a quirky smile on her face and a fondness for her charges. She has a confidence and presence that exudes off the screen.
Asa Butterfield, who had his big break with the title role in Martin Scorsese's Oscar-winning film Hugo, is phenomenal in his role as Jacob. His frustration about not knowing what was going on in his grandfather's life, and his confusion but ultimate delight in meeting the children he's always heard of, are clearly defined by this young actor.
Ella Purnell as Emma breathes not only air into water, but life into her role as a girl who's thrilled beyond belief to meet Abe's grandson and who's definitely up for some adventures.
One last note — this may be a film about children, but it's not necessarily meant for younger children. There are frightening creatures in this — two different types — and they are evil. They steal eyes so they can eat them and the Hollows (the creatures who serve the evil people in charge) are especially terrifying. Definitely the stuff of nightmares if you have young ones.
For adults or older children, this enchanting movie is deliciously dark and I thoroughly enjoyed it. I give it 8 out of 10 stars.
If you have seen Miss Peregrine's Home for Peculiar Children and you would like to rate it and/or write your own review, click here. ~Alexandra Heilbron