Miss Sloane showcases Jessica Chastain's brilliance – Blu-ray review
By Tribute on March 21, 2017 | 1 Comment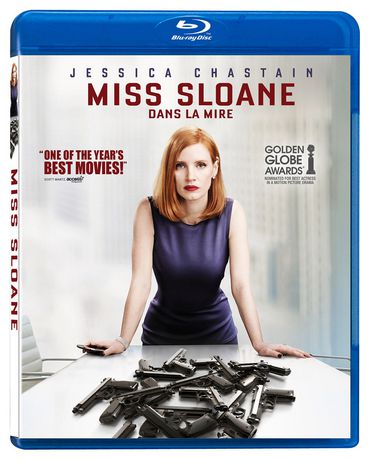 Jessica Chastain seamlessly slips into the skin of the characters she portrays. In The Help (2011), she became Celia, a warm, simple, kind-hearted housewife with a high-pitched voice and Southern accent. As Maya in Zero Dark Thirty (2012), audiences were treated to a smart, persistent CIA analyst in hot pursuit of Osama bin Laden. Both performances earned her Oscar nominations, and it's a shame a third honor didn't follow this year for her tour de force turn as the cunning, calculating lobbyist Elizabeth in John Madden's political drama Miss Sloane.
In the debut feature screenplay of writer Jonathan Perera, Miss Sloane pulls back the veil on the shady, underhanded dealings inherent to D.C. politics. It begins at a U.S. Senate hearing where Elizabeth Sloane (Jessica) is being investigated for what we quickly come to understand as unorthodox — and potentially illegal — work as a lobbyist. The narrative shifts back and forth between the dramatic hearing spearheaded by Congressman Ron M. Sperling (John Lithgow) and the events that led up to it.
When the viewer meets Elizabeth, it's strikingly clear that she's a fierce, unfeeling power player on Capitol Hill. She's ruthless and almost robotic in demeanor, devoid of emotion and empathy. She's employed by the consulting firm Cole, Kravitz & Waterman, and although she doesn't run the business, she carries herself in a manner and exudes a confidence that suggests she does.
But early in the film, she leaves her position with the firm. George Dupont (Sam Waterston), her superior, introduces her to a dominant right-wing group that wants her to assist in the fight against the Heaton-Harris bill. If passed, the bill would significantly tighten restrictions around the purchase of firearms and intensify background checks. Elizabeth is starkly opposed to the group's stance and despite counsel to the contrary, she quits. As she exits, she takes most of her team with her, save for Jane Molloy (Alison Pill).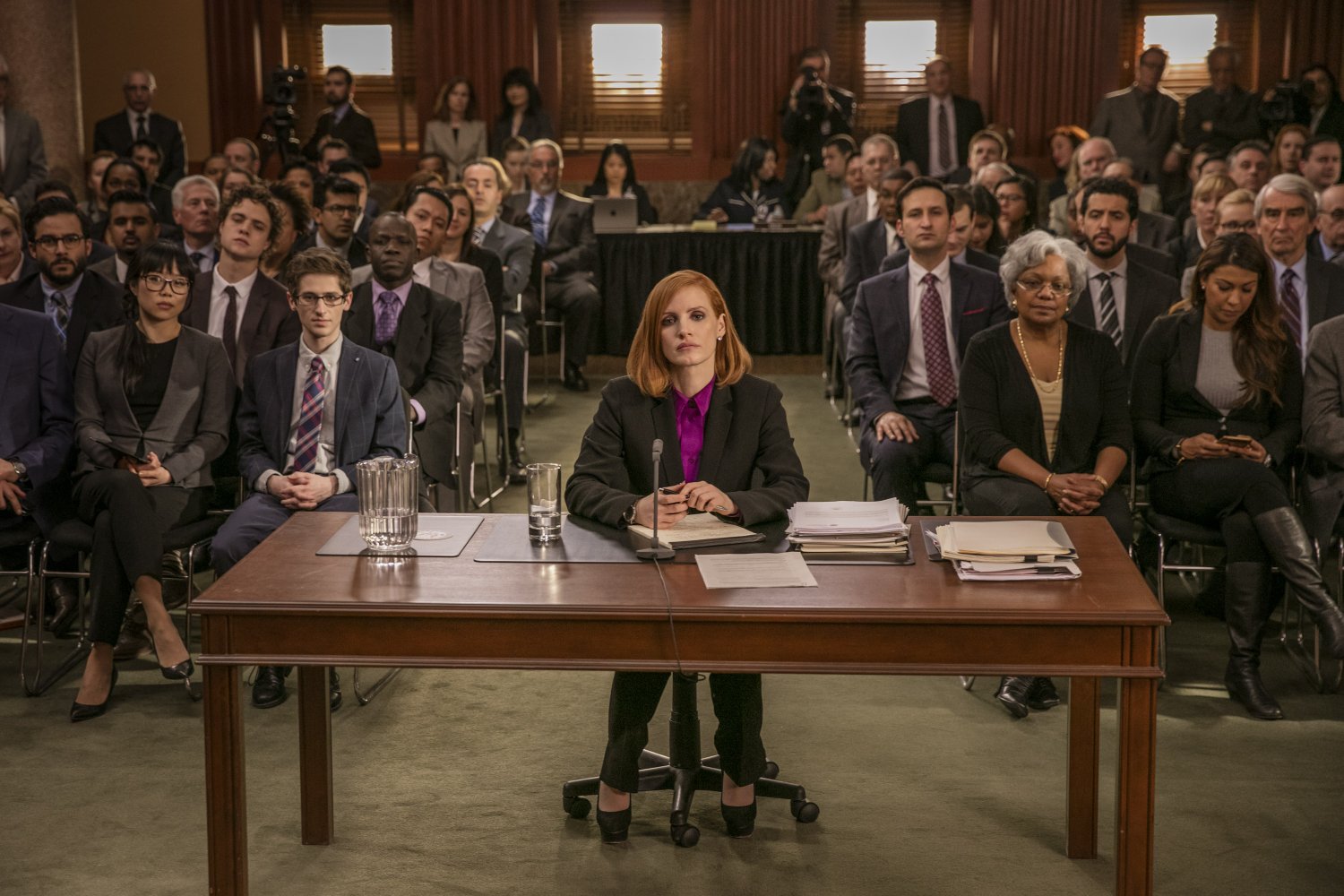 In her new role, Elizabeth vows to battle her former colleagues on the Heaton-Harris bill. Along with the members of her team she was able to recruit, she joins forces with Rodolfo Schmidt (Mark Strong) and his squad at Peterson Wyatt. Rodolfo's crew includes the astute Esme Manucharian (Gugu Mbatha-Raw), whom Elizabeth depends on — and brutally deceives — in her Machiavellian, merciless pursuit of victory.
Regardless of cost, winning is the only option for Elizabeth. She charges ahead without concern for collateral damage and revels in the opportunity to overthrow the top dog.
Miss Sloane isn't a flawless film, but it paints an honest picture of politics — and lobbying in particular — as a shrewd, behind-the-scenes game that is as cold as it is corrupt. The undeniable highlight of the movie, however, is the remarkable work delivered by its lead.
In a Golden Globe-nominated performance, Jessica Chastain shines as the sharp, scheming and manipulative Miss Sloane. The film is her story, and she is wholly believable as the pill-popping, glued-to-her-phone character. As frigid and devious as Elizabeth is, Jessica finds a way to humanize her. Some of her best scenes come in the presence of Forde (Jake Lacy), the scantily-clad escort with a twang whom she hires to satiate her sexual appetite. Elizabeth views sex as a meaningless transaction, but Forde strikes a chord in her that reveals traces of a troubled, unhappy soul desperate for affection. Yes, she is as stiff as a "granite wall" — a term she uses to describe her own disposition at the hearing — but Jessica pokes holes in her armor to cultivate a connection with the viewer.
One wouldn't be at fault for drawing comparisons between Elizabeth and Gillian Anderson's Stella Gibson (The Fall) or, on a less serious level, Meryl Streep's Miranda Priestly (The Devil Wears Prada). The women are strong and steered in the direction of an end goal, and willing to make the necessary sacrifices to attain it. The actresses who portray them convey a fiery ambition while brushing their performances with a necessary stroke of humility. All three are awe-inspiring.
Of the supporting cast, it's Gugu Mbatha-Raw who warrants mention. She brings a fragility and vulnerability to her role as Esme, but imbues a sense of tenacity as well. One of the film's many twists revolves around Esme, and Gugu is startling as truths unfold.
Miss S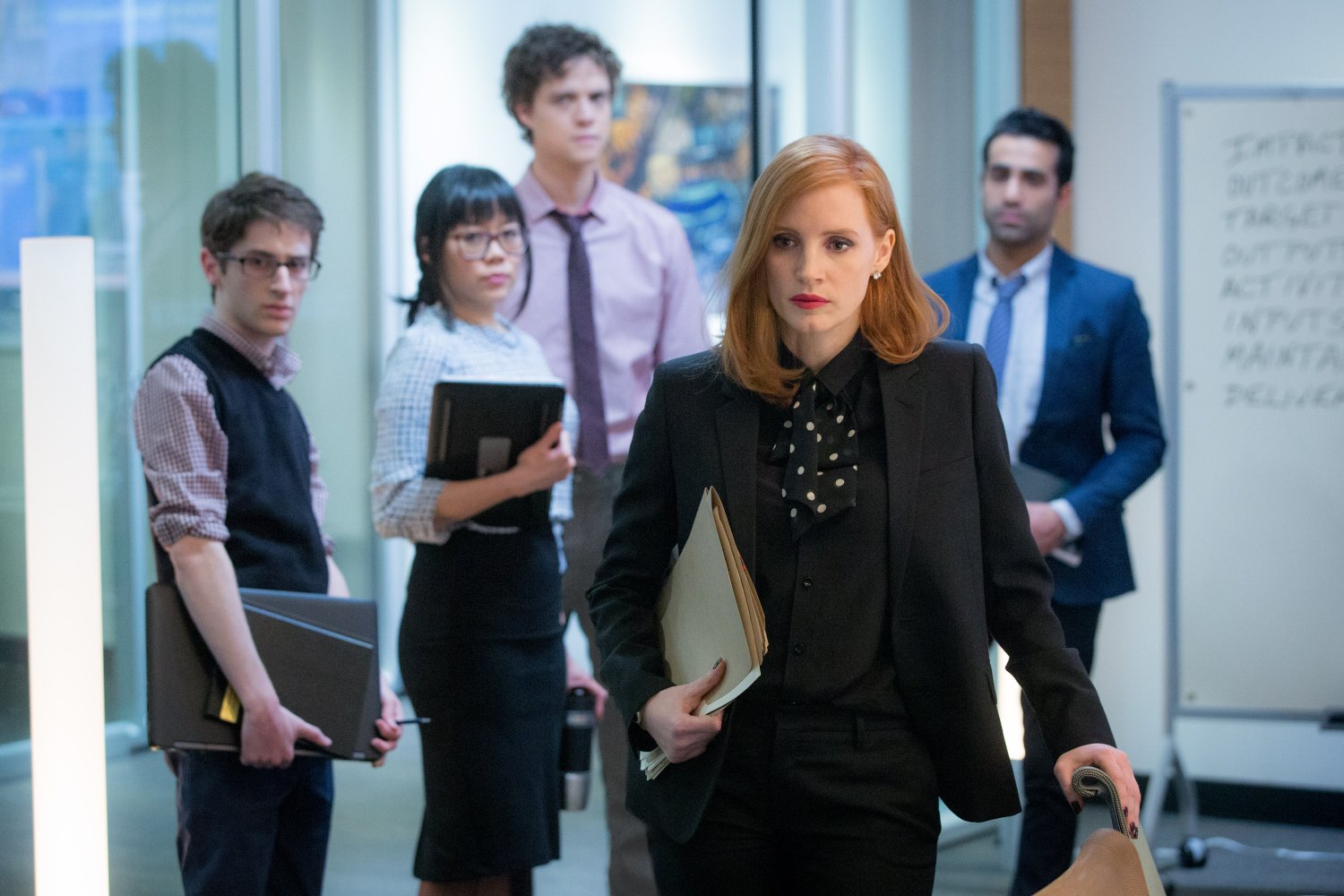 loane has a running time of 132 minutes, which is on the long side. It's not that the viewer loses interest at any point — Jessica's gripping performance ensures this — but one does wonder if every line of dialogue is crucial to the advancement of the story. The beginning of the film is especially language-heavy and keeping up with the pace is no easy task. "Insider" speak is aplenty in Perera's screenplay and the banter between characters is convoluted. Certain audience members may find this isolating.
The film is a reunion for director John Madden and his leading lady. The pair worked together on the thriller The Debt (2010) and they've clearly developed a collaborative rapport that lends itself to quality filmmaking.
Miss Sloane is a story about a flame-haired, stiletto-wearing woman who is swallowed whole by her own unyielding drive to win. It's a smart, slick and stinging look at a world few are privy to, and plays out like a high-stakes game of chess that is as riveting as it is immersive. Parallels between it and other politically-charged works including The West Wing and House of Cards are inevitable. But for placing at its center a woman who is unapologetic about her objectives, however questionable in nature her means of achieving them may be, it deserves praise.
Special features:
* Lobbying: Winning By Any Means explores the mysterious occupation of a lobbyist and offers insight into the making of Miss Sloane. John Madden discusses the enticing screenplay by Jonathan Perera, Jessica Chastain delves into why she wanted the role of Elizabeth Sloane and what her preparation entailed, and Gugu Mbatha-Raw shares details of a boot camp the cast was put through in Toronto (where the film was shot) prior to production. Jonathan is also featured and chats about why he finds lobbying fascinating and how impressed he was with Jessica's commitment to her part.
If you've seen Miss Sloane and would like to share your opinion, click here. ~Matthew Pariselli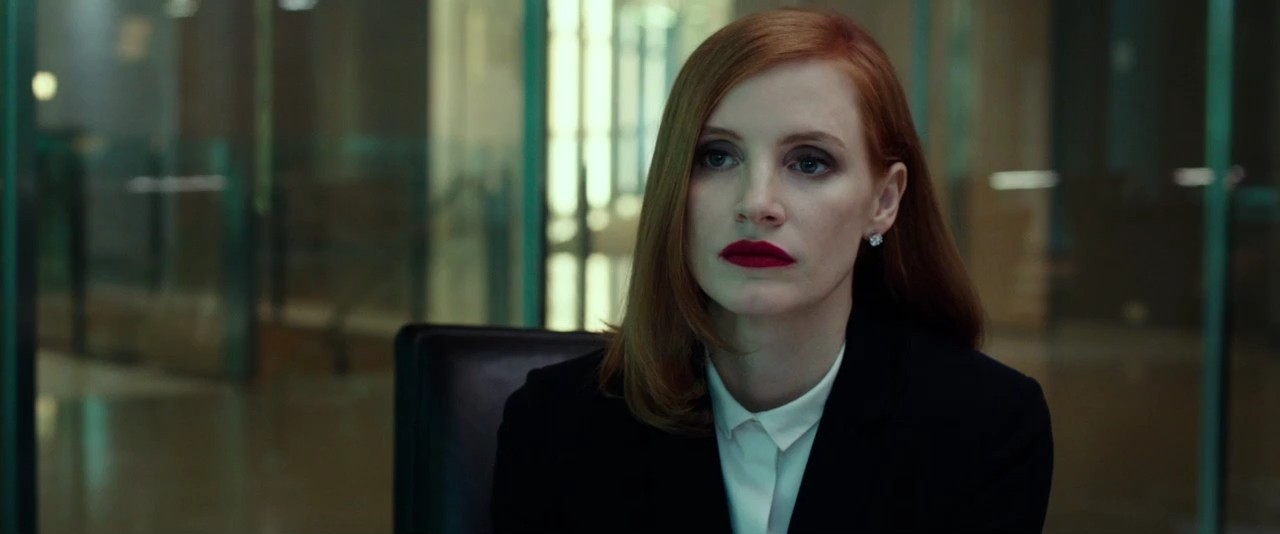 ---
---
---
---
Similar Articles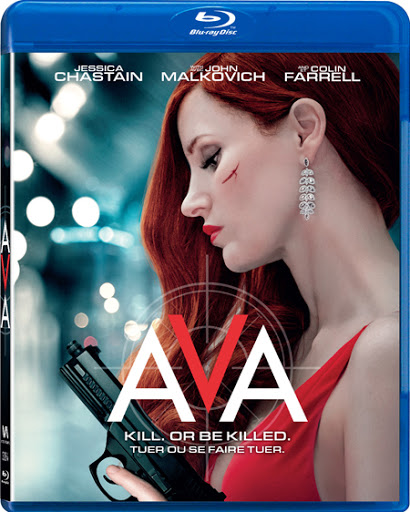 August 25, 2020 | Leave a Comment
Check out this week's assortment of DVDs, Blu-rays and more for your home entertainment enjoyment, including Jessica Chastain as an assassin on the run in Ava.
---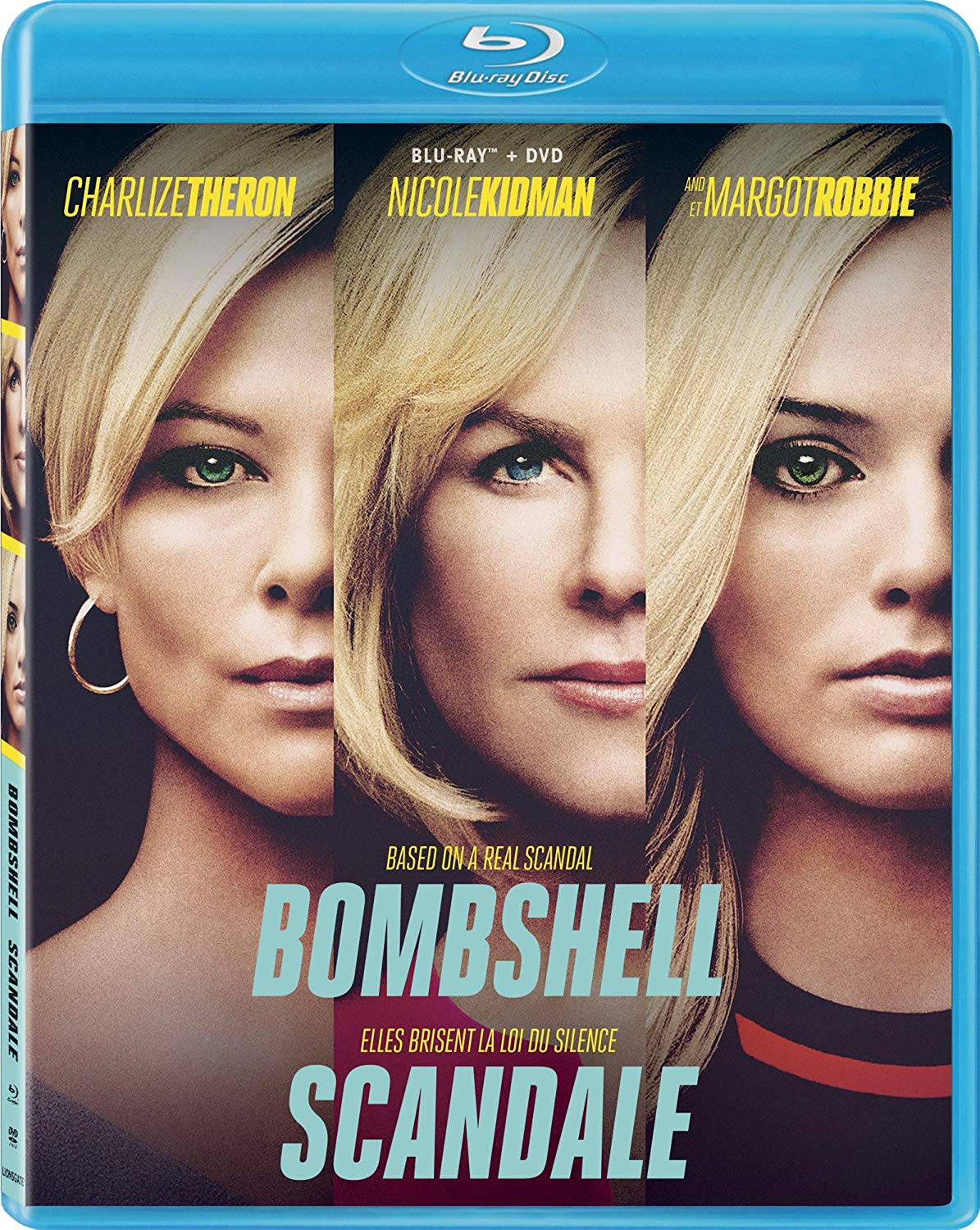 March 10, 2020 | Leave a Comment
Bombshell is an explosive film that tells a compelling story. It's a powerful eye-opener about the culture of sexual harassment and is a worthy watch.
---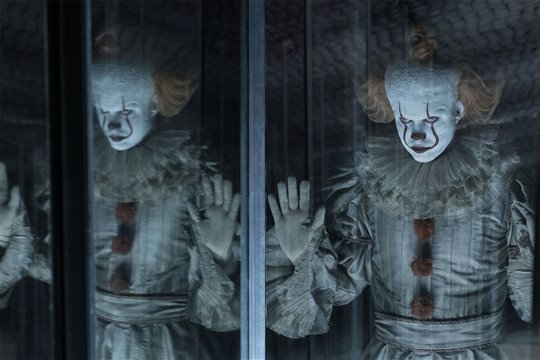 September 5, 2019 | 1 Comment
Pennywise, the devilish clown from Stephen King's novel returns to haunt in IT: Chapter Two, and this time he's even more menacing than in the first film.
---