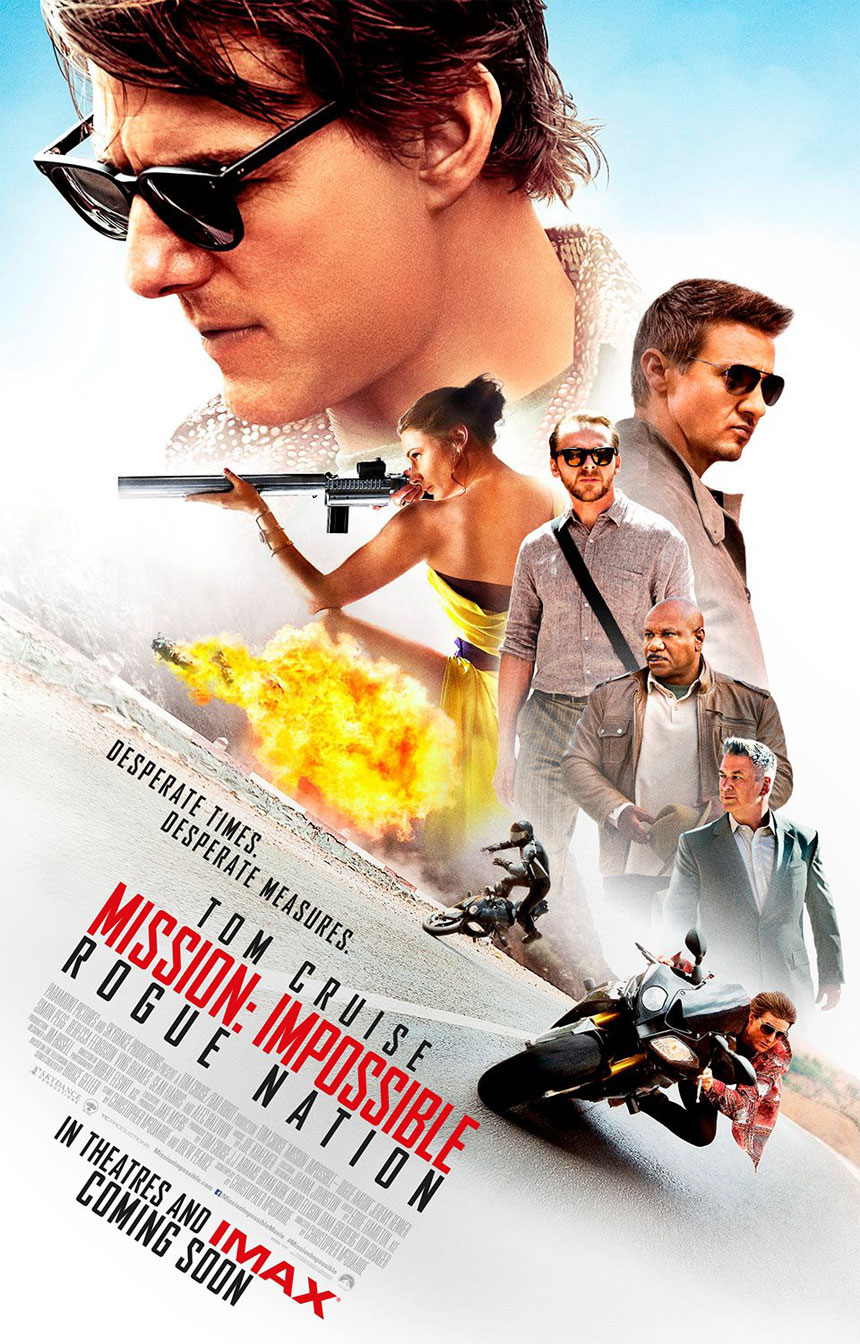 If you haven't been excited for any new movies out now in theaters, don't give up. There are more new trailers being released right now. Getting ready to kick ass is the fifth installment of the Mission: Impossible series, which will welcome Tom Cruise again on the big screen. Next, you may want to catch another action flick – Hitman: Agent 47 – based on the Hitman video game series. Robin Williams' last film Boulevard is a farewell to the beloved late actor.  ~Maria-Josee Martinez
1. Mission Impossible: Rogue Nation
3. Boulevard
4.  Legend
5. Paranormal Activity: The Ghost Dimenson
6.  Masterminds
7.  Final Girl
Tom Cruise is back as secret agent Ethan Hunt in the fifth installment of the popular film series, Mission: Impossible Rogue Nation. This time Ethan has to assemble his team for their final and difficult mission to prove the Syndicate's existence. The Syndicate is an organization grouping assassins and rogue operatives who are ordered to kill and only Ethan can stop it.
Based on the popular video games series Hitman, a mysterious man known by the name of Agent 47 is a secret agent who works for a non-government organization in Hitman: Agent 47. With a tattooed bar code on the back of his head, he is the product of genetic engineering so he can be the perfect killing machine. He teams up with a young woman in order to help him learn more about his past and begin to battle with his greatest enemy.
Robin Williams gives his final performance in Boulevard. A workaholic, Nolan Mack has worked at a bank for almost 26 years and tries to spend as much time with his family as possible. It all changes when one day Nolan encounters a young troubled man on the street. It is up for Nolan to decide to break from the confines of his old life and come to terms with who he really is.
Based on a true story, Legend is a thriller that tells the story of twin brothers Ronald and Reginald Kray (Tom Hardy),  gangsters who terrorized London in the 1950s and 60s.  It focuses on the life of Reginald, who seeks to control the psychotic tendencies of his twin brother.
Paranormal Activity: the Ghost Dimension is another installment in the Paranormal Activity series. Ryan, his wife Emily and their daughter Leila move to Palo Alto so Ryan can start his new job and live close to his brother. The two brothers find tapes of a young Kristi and Katie being taught supernatural abilities from 20 years earlier. However, Ryan's daughter has been targeted by the supernatural and he must find a way to protect his daughter before it's too late.
In Masterminds, an inept armored vehicle guard named David (Zach Galifianakis) helps execute a $17 million heist with a group of double-crossing criminals who make off with the cash and set him up to take the fall. David, along with his love interest, co-worker Kelly (Kristen Wiig), must dodge authorities and evade a hit man (Owen Wilson). Based on a true story.
Four boys hunt and kill blonde girls for sport every night in the forest in Final Girl. That is, until they meet Veronica (Abigail Breslin), who they plan to use  as their next victim. What they don't know is that Veronica is actually an assassin-in-training who plans to get rid of the boys.
Jake (Jason Sudeikis) and Lainey (Alison Brie) lost their virginity to each other in college in the movie Sleeping With Other People. They suddenly run into each other after 12 years and realize they were both serial cheaters. Bonding again over their infidelity, the two begin to support each other in finding ways of gaining a healthy relationship.
A homeless man (Richard Gere) tries to reconnect with his long estranged daughter (Jena Malone) in Time Out of Mind.
In the documentary He Named Me Malala, female activist Malala Yousafzai reflects on the time when she was shot and wounded by Taliban soldiers for speaking out about girls getting an education in her country of Pakistan. The film goes behind-the-scenes and shows the aftermath of Malala's shooting, including Malala attending lectures, traveling the world to help students receive a proper education and getting a Nobel Prize.