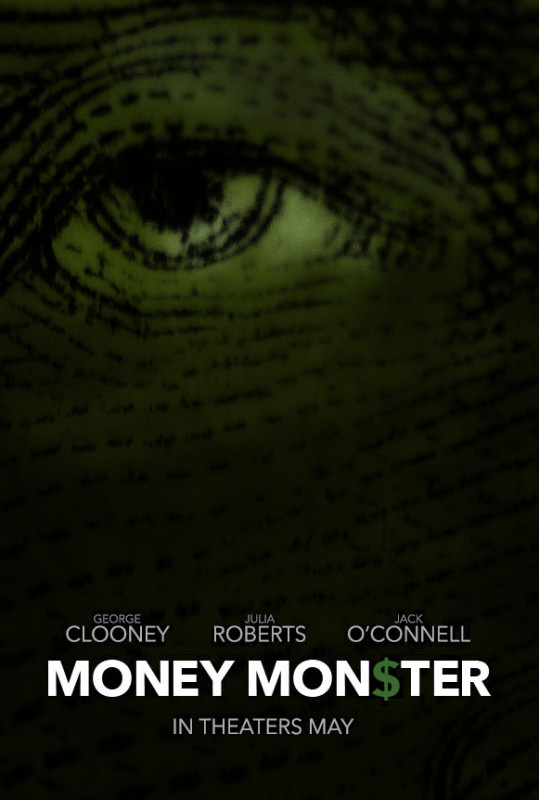 New trailers this week include the thriller Money Monster, which reunites Ocean's Eleven costars George Clooney and Julia Roberts as a TV show host and producer taken hostage at their TV station.
The horror sequel The Conjuring 2 also has a new trailer that has paranormal investigator couple Lorraine (Vera Farmiga) and Ed Warren (Patrick Wilson) back in action, fighting off more deadly poltergeists.
For more historical fare, Matthew McConaughey is an anti-Confederacy outlaw in the new trailer for Free State of Jones. ~Shelby Morton
6. Triple 9
8. The Witch
10. Elvis & Nixon
Money Monster – TV personality Lee Gates (George Clooney) gives insider tips on air, aimed at everyday people, which has earned him a title as the money guru of Wall Street. A young man named Kyle (Jack O'Connell) watches the show and when he places all of his family's money on a tip from Gates, he loses it all. He goes to the station and takes Lee and his entire show hostage on air.
The Conjuring 2 – In The Conjuring 2, Lorraine and Ed Warren (Vera Farmiga, Patrick Wilson) are back as paranormal investigators as they try to help a little girl who is haunted by an evil force in a house plagued by malicious spirits.
Hail, Caesar! – In the comedy Hail, Caesar! a 1950s studio "fixer" (Josh Brolin) is presented with plenty of problems to fix — including a missing movie star (George Clooney) and a pregnant actress (Scarlet Johansson).
Kevin Hart: What Now? – In Kevin Hart: What Now?, comedian Kevin Hart once again takes center stage, this time in front of 50,000 people at Philadelphia's Lincoln Financial Field.
Free State of Jones – A Mississippi farmer (Matthew McConaughey) realizes the futility of battle when he witnesses many deaths in Free State of Jones. Disillusioned, he deserts and inspires fellow farmers, as well as slaves, to join him in his anti-Confederate rebellion. Along the way, he falls in love with a slave (Gugu Mbatha-Raw).
Triple 9 – Blackmailed by the Russian mafia, a crew of corrupt cops (Chiwetel Ejiofor, Anthony Mackie, Aaron Paul) plan to murder a rookie police officer (Casey Affleck) in order to pull off their biggest heist yet in the Triple 9 trailer.
Jane Got a Gun – Jane (Natalie Portman), a young mother living on a secluded ranch on the vast New Mexico prairie, seeks help from her former fiancé, (Joel Edgerton), now a gunslinger, after her husband duels with a gang called the Bishop Boys and their ruthless leader (Ewan McGregor) in this trailer for Jane Got a Gun.
The Witch – In The Witch, William and Katherine live devout Christian lives as the parents of five children when things begin to go horribly wrong. Their newborn son inexplicably vanishes, their crops fail, their animals show uncharacteristic behavior and one child appears to be possessed by an evil spirit. The family begins to turn on one another, blaming their oldest daughter of being a witch.
10 Cloverfield Lane – In this trailer for 10 Cloverfield Lane, a young woman (Mary Elizabeth Winstead) wakes up after a car accident to find herself locked in a comfortable but isolated bunker with two men allegedly protecting them from something terrible outside.
Elvis & Nixon – In Elvis & Nixon, President Nixon (Kevin Spacey) and his staffers (Evan Peters, Colin Hanks) are put to the test when Elvis Presley (Michael Shannon) makes a spur-of-the-moment visit to the White House and in addition, wants a badge so he can go undercover for the government in order to "infiltrate the communists."