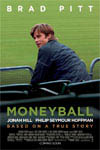 Brad Pitt is getting some serious Oscar buzz for his performance in Moneyball, which is the story of Oakland A's manager Billy Beane and his successful attempt at putting together a baseball club on a budget by employing computer-generated analysis to draft his players.
Bonnie Laufer of Tribute spoke with Brad and co-star Jonah Hill about working on the film and why Pitt was so enamored by this underdog story.
Moneyball is available on Blu-ray Combo-Pack and DVD on January 10.