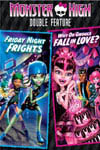 Mattel's Monster High Dolls come to life in Monster High: Double Feature. The movie  includes two fang-tastically packed adventures: Friday Night Fights and Why Do Ghouls Fall In Love.
The first movie begins with the gang planning Draculaura's 1600th birthday, but it quickly turns into a rescue mission to save Draculaura's heart from the clutches of her lost love Valentine. In Friday Night Frights the boys are injured during their Skultimate Roller Maze Competition, and can't compete in the championship. It is up to the girls to win back the school's spirit crest before all of the school's spirit is gone forever.
The 90-minute double feature will be a fan favorite for all your little ghouls and goblins, watching their favorite characters come to life in the vibrant and beautiful crafted animated film, while parents will love the life lessons Mattel has intertwined into their story. Unlike some movies aimed at children that teaches them a prince will one day rescue them, Why Do Ghouls Fall in Love shows you can always count on your friends to have your back. Friday Night Frights encourages children to break traditions and not to follow the social norm. Girls were banned from Skultimate Roller Maze Competition because it was "a boy sport," and were taunted with phrases like "How will we accessorize our uniform," but the girls overcame the stereotype and won the race. The film encourages children to be who they want, no matter the roadblocks in their way.
Monster High Double Feature is available on DVD today (February 5). Other new releases this week include Alex Cross, Celeste and Jesse Forever, Cloud Atlas, Deadfall, Flight and Here Comes the Boom. ~Brittnee Fleming