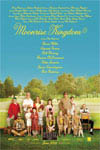 Moonrise Kingdom is a beautifully stylized film, much like director/screenwriter Wes Anderson's earlier movies, such as The Life Aquatic with Steve Zissou and The Royal Tenenbaums, but arguably better. Although the theme is real and the acting is completely believable, the story and settings are not of this world. In the world of Moonrise Kingdom, set on the Island of New Penzance, there are Khaki Scouts. Unlike Boy Scouts, Khaki Scouts are run more like the army than like a bunch of kids having fun. One of the scouts, orphan Sam Shakusky, doesn't fit in. The other scouts pick on him, for no other reason, it seems, than that they have to pick on someone.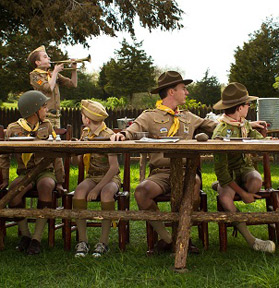 Nearby on the island, there's a family of oddballs (the mother, played by Frances McDormand, communicates with her family using a bullhorn) and maybe the least odd of all is their 12-year-old daughter, Suzy. Sam and Suzy meet at a play and decide to run away together. When Sam's scoutmaster (Edward Norton) realizes the boy is missing, he calls on the other scouts to help find him. He stresses that if they find Sam, they're not to use force to bring him back. Regardless, the boys all arm themselves with homemade weapons.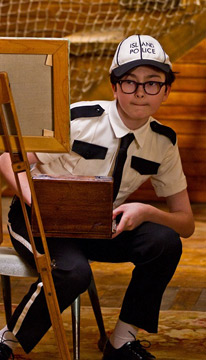 Bruce Willis gives a restrained performance as a mild and kind-hearted small town police officer who gets involved in the search. Norton also stands out as the harried scoutmaster who gets demoted when his entire troop goes missing, while Jared Gilman and Kara Hayward (both making their movie debut) as Sam and Suzy give performances that are far beyond their years.
The story is simple, spell-binding and heartwarming. It's not surprising that it received a 94 per cent approval rating at Rotten Tomatoes. Now available on DVD, it's a must-see that's entertaining enough to watch several times. The extras include a "Set Tour with Bill Murray" (who plays Suzy's dad), "Welcome to the Island of New Penzance" (several short teasers featuring the film's narrator, Bill Balaban, telling you about various characters in the film) and "A Look inside Moonrise Kingdom." ~Alexandra Heilbron
Also available today on DVD are: Madagascar 3: Europe's Most Wanted; The Forgiveness of Blood; Neil Young Journeys; War Witch (Rebelle) and more.