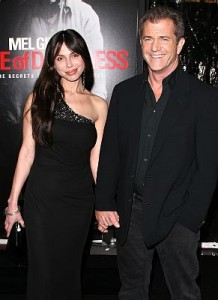 New reports are indicating that Mel Gibson allegedly made up to 30 "terrorizing" phone calls to his ex Oksana Grigorieva the night they called it quits.
Included are eight profanity-ridden messages he left on her answering machine, Radaronline reports.In one message, Gibson reportedly drops the F-bomb 23 times. Radar reports that Gibson taunts the Russian singer, 40, in one message: "Just making sure you're awake, if you were trying to sleep. Because I am awake—and you deserve to be. Don't ever sleep again. Don't sleep as long as I don't sleep."
Gibson is now embroiled in a bitter custody battle with Grigorieva, with whom he has a daughter, Lucia, nearly nine months. Authorities are currently investigating who leaked the damaging recordings, which portray Gibson as a racist, violent man.
Gibson has met with detectives to discuss his claims that Grigorieva attempted to extort money from him.Detectives are also looking into her claims that Gibson abused her during a January fight, where some of her teeth were broken. The investigation is still ongoing.