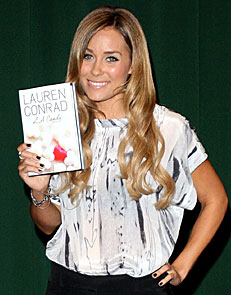 Though The Hills star Lauren Conrad has called it quits after five seasons of the hit MTV show, this isn't the last audiences will see of her. Fans of the show can now pick up Conrad's debut young-adult novel, L.A. Candy (Harper Collins Canada), which follows the story of Jane Roberts and her best friend Scarlett who move to Los Angeles and get cast in a reality show that documents their lives.
Conrad has admitted that the book is loosely based on her own true-life experiences, but with names changed. "I wanted to write something that I really knew about," said Conrad. "I knew that I could write a very true story about what it would be like to be cast in a reality…and being thrown into that experience. I purposely didn't model characters after specific people or bring up specific events. A lot of things like the interview process, the first time you get miked and being introduced to the whole situation is pretty true to my experience. It's different people and different situations, but I had to write what I was familiar with."
But despite leaving reality TV, Conrad is still in the midst of all the turmoil that The Hills brought in her life, particularly with former BFF Heidi Montag Pratt and her husband and Conrad's nemesis, Spencer Pratt. On the second to last episode of the season finale, Spencer called Conrad to apologize for spreading rumors that she and her former boyfriend Jason Wahler had a sex tape and urged her to come to his and Heidi's wedding. But after an appearance on The View, Conrad admitted that while Pratt was filmed apologizing to her over the phone, she claims it was staged and that Pratt is using the so-called apology to make himself look good. "To be perfectly honest, I wasn't on the other line of that call," Conrad said. "That was filmed and I wasn't on the other end. I didn't even know about it. So no, I didn't get an apology. He's lying."
If her book L.A. Candy is as drama-licious as her The Hills and post-Hills life, then you don't want to miss its release in stores on June 20th.