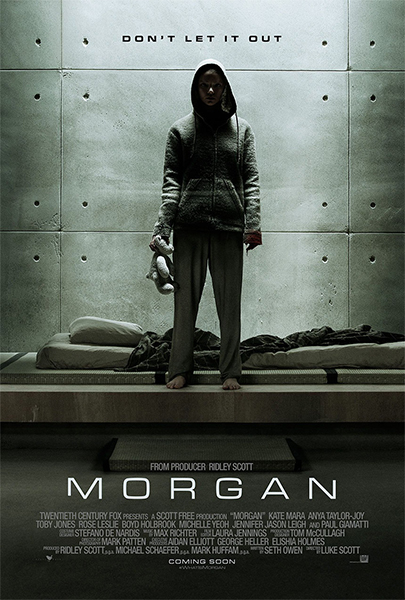 Going to the movies gives us a plethora of experiences. Awe, romance, joy, laughter and so on. But then there are those who crave something darker on the silver screen. Reveling in suspense, these brave moviegoers want to feel tense and afraid. Their hearts pound with terror and wonder. Every one of these moviegoers needs to see Morgan.
Let's begin with the story. Lee Weathers (Kate Mara) is a corporate troubleshooter sent to investigate when an artificial intelligence unit triggers an unfortunate accident. Evaluating the incident introduces Lee to the rest of the team. Nothing gets past Dr. Simon Ziegler and Dr. Lui Cheng, the two genetic engineering geniuses behind Morgan (Anya Taylor-Joy).
Research team member Amy's (Rose Leslie) bond with Morgan is less scientific and more personal. The two are seen exploring the forest together, and Morgan is shown to trust Amy more than anybody else at the compound. Another lighthearted team member is Skip (Boyd Holbrook), the goofy nutritionist. Lee and Skip share some cute scenes together before the second act takes off.
In the film's universe, artificial intelligence is real. Ever since the technology was harnessed, scientists have been trying to genetically engineer sentient A.I. beings with the power to feel human emotions. Helped by a round-the-clock team of experts and years of genetic engineering, Morgan is the latest step in the A.I. project.
Everybody at the screening jumped at the movie's opening scene, which I won't give away. Morgan is examined by a psychiatrist (Paul Giamatti) following the incident. Although she appears to be stable during the evaluation, the psychologist continues to provoke her until she snaps and attacks him.
I need to praise the acting, especially of the two leads. Kate Mara is no one trick pony. I've seen her in bad movies, and yet her performance still comes through. If bad movies were water, Kate Mara is oil. I love the posterity and poise of her character in Morgan. It's sexy, elegant and powerful. Kate commands the film.
Kate is eclipsed only by Anya Taylor-Joy. Her performance is like nothing I've ever seen. When she is robotic, there is still humanity. When she is human, there is a coldness to her. I was expecting a caricature, but instead I got an A.I. performance that surpassed even Haley Joel Osment's. A star is born.
Morgan works well until the final act. It seems like some crucial scenes were left on the cutting room floor. I get it, it happens. With all of that said, if you've seen the trailer above and think Morgan is your kind of movie, then I think you'll really enjoy it.
Have you seen Morgan? Click here to write your own review. Feel free to comment on my review below. ~ Yanis Khamsi