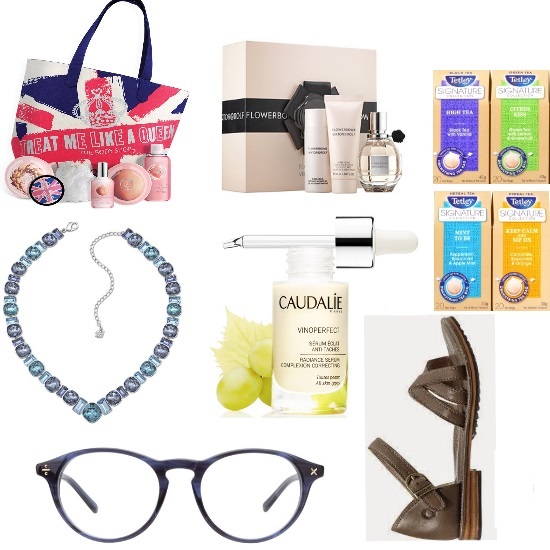 With Mother's Day around the corner, we know how you're trying to find the perfect gift to show mom your gratitude and appreciation. We hear you! We've compiled a few gift ideas that will surely put a smile to her face.
The Body Shop
The ultimate gift for mom is a bag full of skincare products she can't resist. The Limited Edition Mother's Day Tote Bag is filled with six customer favorites that can only earn you brownie points with mom. The adorable tote bag with the words "Treat Me Like a Queen" splashed over it includes Limited Edition Vitamin E Moisture Cream, Vitamin E Body Butter, Pink Grapefruit Eau de Toilette, Pink Grapefruit Shower Gel, Pink Grapefruit Body Scrub 50ml and White Bath Lily. We are giving one lucky fan this prize pack. Click here for more details. ($30)
Swarovski
Crystals are totally mom's new best friend. This palladium-plated masterpiece from Swaroski is laced with stunning blue denim crystals, perfect for a cocktail party.  ($279)
BOGS
Your mom's feet will thank you for gifting her one of the most comfortable warm-weather shoe around. Made with full grain leather upper, soft leather lining and stealth Rebound cushioning in the heel, Bogs' Nashville Sandal lets you stride to work in comfort or sashay into summer with long-wearing support and plenty of style. These sandals come in Black, Cinnamon and Desert Rose. ($110)
Viktor & Rolf
Viktor & Rolf's Flowerbomb Gift Set is an exclusive gift set celebrating Viktor & Rolf's 10th anniversary. Rose, jasmine and orchid scents are infused in this floral concoction. It's a gift set that any mom will absolutely adore. Hugs galore on your way! ($144)
Caudalie
The Caudalie Vinoperfect Radiance Serum is a light, milky serum that prevents dark spots, bids farewell to acne and scars and instantly adds a radiance finish. She will love it. Mum's the word! ($79 CDN)
Derek Cardigans
Even if she doesn't admit it, she may be eyeing a new pair of glasses. Derek Cardigan's Gold Collection features the retro trend with fun and funky colors. The math symbols are embossed in gold while the shapes are a throwback to the 1970s. Recently, celebs like Taylor Swift and Ellie Goulding have been seen sporting Derek Cardigans. Why not make mom feel like a celeb with a pair from this collection? ($99)
Tetley
If your mom's a tea lady, the new Tetley Signature Collection will make sure she's refreshed and energized all day long. There are four new tea varieties: Black Tea with Vanilla, Green Tea with Lemon & Grapefruit Tea, Peppermint, Spearmint & Apple Mint Tea and Camomile, Spearmint & Orange Tea.
Happy Mother's Day to all the moms out there!