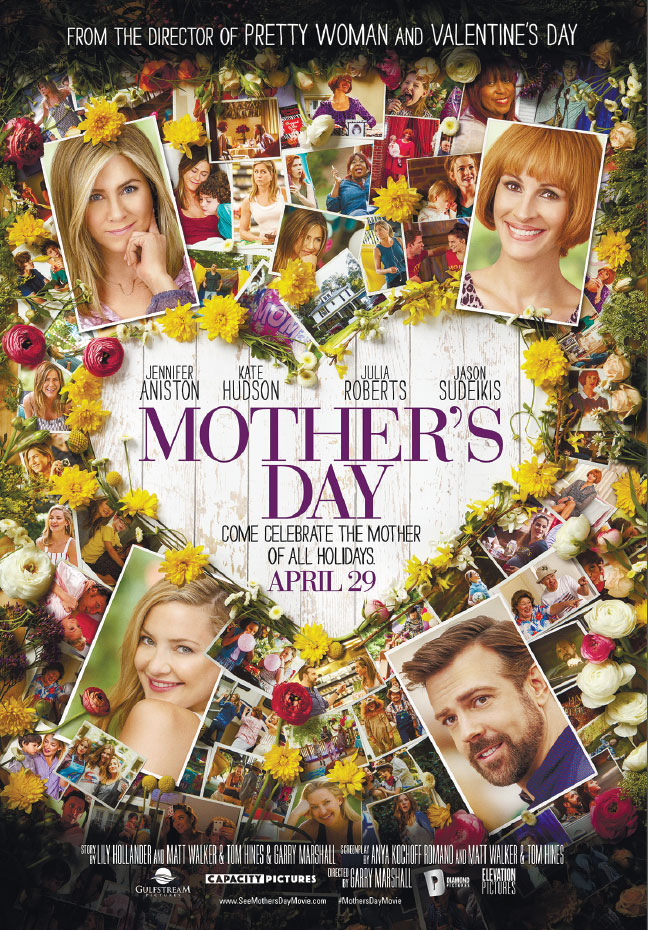 Garry Marshall's Mother's Day is a light-hearted comedy that is completely fitting for a celebration of mothers everywhere. It's been a while since a movie with an ensemble cast was able to churn out a feel-good film with rib-tickling scenes. Credit for this goes to the amazing cast, including Jennifer Aniston, Jason Sudeikis, Kate Hudson and Julia Roberts.
Sandy (Aniston), a divorced mother of two boys, is hoping to reconnect with her ex-husband (Timothy Olyphant) until he drops the news that he eloped with his twenty-something girlfriend Tina (Shay Mitchell). Sandy is livid when Tina starts to get closer to the boys. She confides in Jesse (Hudson), who has her own share of drama in her life.
Jesse lives next door from her sister Gabi (Sarah Chalke) and they keep their distance from their racist Texas parents who seem to enjoy meddling in their daughters' lives.
When their parents show up for Mother's Day, a Jerry Springer-type show goes down. The parents first find out that Gabi has a wife named Max and are then appalled when they find out Jesse married an Indian. This hilarious scene was packed with racist innuendos that I admit, had me in stitches.
We are also introduced to successful entrepreneur Miranda (Roberts), who tells people she doesn't have kids, but a career. However, when a young girl named Kristin (Britt Robertson) shows up at a book signing claiming to be her daughter, Miranda is forced to think about what she gave up years ago. Kristin is a young mom living with her standup comedian boyfriend Zack who wants to marry to her, but she turns him down due to her abandonment issues.
Last but not least, the plot rolls out widower Bradley (Sudeikis), who is still grieving the death of his wife a year ago. He is single-handedly raising two daughters, including one who is now a teenager and that scares him. The father-daughter story line is an admirable touch to this film, especially for single dads who have had to don the motherly cape.
Each of the characters' lives intersect with the others and each story unfolds with its own set of drama, hijinks and aww-worthy moments. Aniston, who hails from the sitcom Friends and has numerous big screen rom-coms to her credit, still has great comic timing and pulls off cheeky one-liners like the pro she is. Scenes where she is screaming to herself in a car or having a heart-to-heart with a rather attentive non-psycho clown, still make me laugh out loud.
For her part, Kate Hudson kicked back her shoes and let her talent do the talking. Aasif Mandvi was hilarious as the Indian doctor – throwing shade at racist parents who stereotype him at first glance. Julia Roberts, a charmer herself, was given too small a role. As much as I welcomed her presence, the writers could have beefed up her role or thrown in a few one-liners (she does have great comic timing). I liked the reference to Pretty Woman, that was a good one. Watch for it if you're a Pretty Woman fan.
The roles played by Britt Robertson and Jack Whitehall were almost unnecessary. If there was one story line that was the least entertaining, I'd have to say this one. It wasn't the acting, but the plot that fell short. For his part, Jason Sudeikis didn't even have to try to be funny – he is a natural comedian and his one-liners were pure gold.
Overall, I really enjoyed the film. When compared to Garry's previous two films Valentine's Day and New Year's Eve, Mother's Day fares far better in my books. It is funny, light-hearted and a great film to watch with mothers (and fathers). Also, watch out for the credits – there are some juicy bloopers in there.
Mother's Day opens wide today.
Did you see the movie? What did you think? You can write your review of Mother's Day by clicking on this link.
~Marriska Fernandes