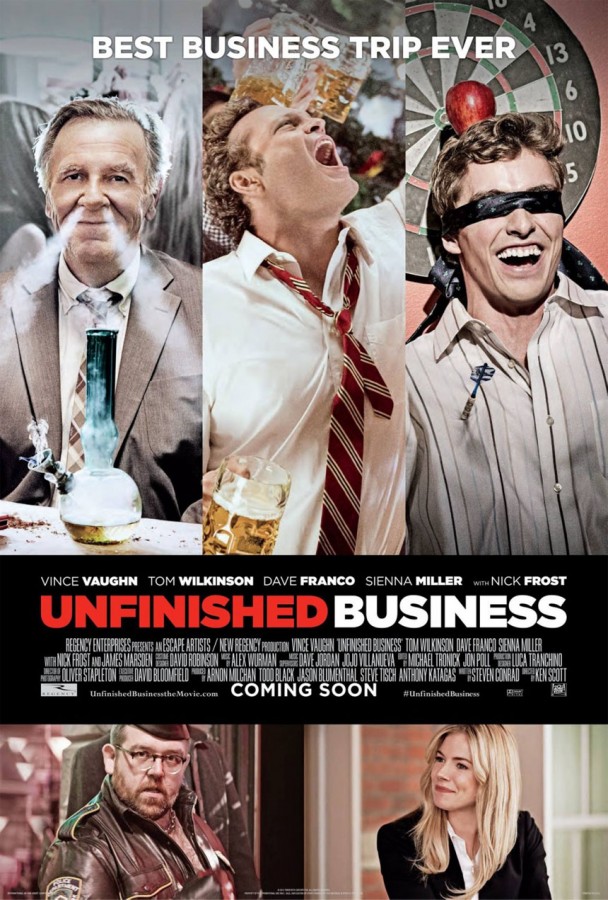 It's the day of the week most people wait for — unless you work weekends. It's the first Friday of a new month, which means a new selection of box office releases. There are quite a few, so let's get right into it and help you break down what's playing and where.
The sequel to the 2012 comedy The Best Exotic Marigold Hotel is finally here. The Second Best Exotic Marigold Hotel follows Sonny (Dev Patel) who, after the success of his first venture, has big plans to expand the business. Click here for showtimes.
If you love comedy, you're sure to enjoy Unfinished Business. A crucial business trip goes terribly wrong in this comedy starring Vince Vaughn, Tom Wilkinson and Dave Franco. You might want to check out their promotional mock business stock photos. For showtimes across Canada, click here.
Making its wide theatrical release is the science fiction movie Chappie starring Hugh Jackman and Dev Patel.  In the future, robot police officers patrol the streets — but now the people are fighting back. When one of the robots is captured and reprogrammed, he is given the ability to think and feel. The authorities will stop at nothing to make sure Chappie is the first and last of his kind. Click here for showtimes.
Moviegoers in Toronto can finally watch the thriller The Babadook. A single mother, still haunted by her husband's death, finds it difficult to love her son Sam, who was born the day her husband died. One night Sam asks his mother to read him the story of Mister Babadook — but this is no ordinary pop-up book. Once someone becomes aware of the creature, it torments them indefinitely. She pays little attention to her son's imaginary monster, but strange coincidences have her second-guessing what's real and what's just a story. Click here for showtimes and uncover the tale of the Babadook.
The thrills continue in Toronto with The Intruders. To Rose's dismay, she and her father move into a new, yet very old, house. The house is fully furnished and Rose learns the previous tenant disappeared, leaving everything behind. She begins hearing and seeing strange things, but no one believes her. Will Rose be the next victim of who—or what—is in the home? If you live in Vancouver or Winnipeg, you'll have to wait until March 20 to find out what happens. For Toronto showtimes, click here.
Another film opening in Toronto is 1971. This documentary tells the story of eight ordinary citizens and how they broke into an FBI office, stealing every document and file, from harmless manuals to incriminating crime documents. The group began anonymously shipping the documents to various news outlets, exposing every secret. Here, they speak for the first time about the events of that night. For showtimes, click here.
Expanding to Vancouver is Elephant Song. A psychiatrist gets pulled into an intricate mind game with a mentally disturbed patient while questioning him about the mysterious disappearance of his colleague. For showtimes, click here.
Debuting in Toronto and on VOD is Kidnapping Mr. Heineken. In what's been called the most notorious kidnapping of the 20th century, a group of five kidnap beer mogul Freddy Heineken (Anthony Hopkins), holding him hostage for a large ransom. Click here for showtimes near you.
Debuting in Toronto and Ottawa is the French comedy Serial (Bad) Weddings. A Catholic couple hopes to pass on their beliefs to their four children. However, three of them are happily married to spouses of different races and religions. When the fourth child decides to marry a Catholic, her parents are overjoyed. But although the man she has chosen is Catholic, he is also black.
Releasing in Edmonton is the drama Sitting on the Edge of Marlene. Sammie, a teenager, and her addict mother Marlene share an unusually morbid fascination with death, seeing the after life as a better place than the living world. While her father is in prison, Sammie helps to make ends meet by joining the family con business. All the while, her unhealthy obsession with death intensifies. Click here for showtimes near you.
Opening in Toronto and Vancouver is Wild Tales. This Argentine-Spanish anthology comedy features six separate shorts that share the common theme of vengeance and violence. Click here for showtimes.
Any of these movies catch your attention? To watch the trailers for any of these films, click the links below:
The Babadook 
The Intruders 
1971
Chappie
Elephant Song
Kidnapping Mr. Heineken
The Second Best Exotic Marigold Hotel
Serial (Bad) Weddings
Sitting on the Edge of Marlene
Unfinished Business
Wild Tales

Don't forget to rate, comment and review to let everyone know what you thought! ~Sandra D. Sukraj