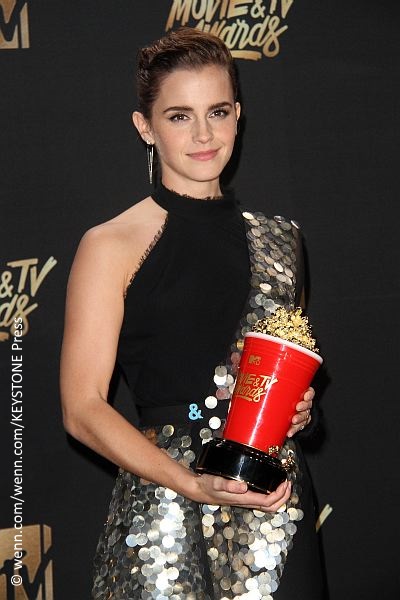 MTV did something very different this year than it has in the past. It recognized television shows in the same categories as movies for the first time.
Another change the award show went through this year was the introduction of gender-neutral awards in its acting categories. This is something other awards shows such as the Emmys, Oscars and Golden Globes have failed to include in their programs.
The very popular racing franchise Fast and Furious was the recipient of the MTV Generation award. This marks the first year the award wasn't received by an actor/actress.
Jordan Peele's hit thriller Get Out led all nominations going into the fan-voted awards ceremony, but it was Beauty and the Beast that took home Movie of the Year.
The star of the film, Emma Watson, won the first ever gender-neutral award for Best Actor in a Movie. Everyone's favorite Netflix series Stranger Things took home the award for best Show of the Year.
The show also revealed exclusive clips and trailers for films such as Spider-man: Homecoming, Wonder Woman and the remake of the film It.
Check out the full list of winners below. ~Brenden Zerihun
Generation Award:
Fast and Furious
Movie of the Year:
Winner: Beauty and the Beast
Get Out
Logan
Rogue One: A Star Wars Story
The Edge of Seventeen
Show of the Year:
Winner: Stranger Things
This Is Us
Atlanta
Game of Thrones
Insecure
Pretty Little Liars
Best Actor in a Movie:
Winner: Emma Watson (Beauty and the Beast)
Daniel Kaluuya (Get Out)
Hailee Steinfeld (The Edge of Seventeen)
Hugh Jackman (Logan)
James McAvoy (Split)
Taraji P. Henson (Hidden Figures)
Best Actor in a Show:
Winner: Millie Bobby Brown (Stranger Things)
Donald Glover (Atlanta)
Emilia Clarke (Game of Thrones)
Gina Rodriguez (Jane the Virgin)
Jeffrey Dean Morgan (The Walking Dead)
Mandy Moore (This Is Us)
Best Kiss:
Winner: Ashton Sanders and Jharrel Jerome (Moonlight)
Emma Stone and Ryan Gosling (La La Land)
Emma Watson and Dan Stevens (Beauty and the Beast)
Taraji P. Henson and Terrence Howard (Empire)
Zac Efron and Anna Kendrick (Mike & Dave Need Wedding Dates)
Best Host:
Winner: Trevor Noah (The Daily Show)
Ellen DeGeneres (The Ellen DeGeneres Show)
John Oliver (Last Week Tonight)
RuPaul (RuPaul's Drag Race)
Samantha Bee (Full Frontal With Samantha Bee)
Best Documentary:
Winner: 13th
I Am Not Your Negro
O.J.: Made in America
This Is Everything: Gigi Gorgeous
TIME: The Kalief Browder Story
Best Villain:
Winner: Jeffrey Dean Morgan (The Walking Dead)
Allison Williams (Get Out)
Demogorgon (Stranger Things)
Jared Leto (Suicide Squad)
Wes Bentley (American Horror Story: Roanoke)
Best Hero:
Winner: Taraji P. Henson (Hidden Figures)
Felicity Jones (Rogue One: A Star Wars Story)
Grant Gustin (The Flash)
Mike Colter (Luke Cage)
Millie Bobby Brown (Stranger Things)
Stephen Amell (Arrow)
Best Comedic Performance:
Winner: Lil Rel Howery (Get Out)
Adam Devine (Workaholics)
Ilana Glazer and Abbi Jacobson (Broad City)
Seth MacFarlane (Family Guy)
Will Arnett (The LEGO Batman Movie)
Tearjerker:
Winner: This Is Us (Jack and Randall at karate)
Game of Thrones (Hodor's death)
Grey's Anatomy (Meredith tells her children about Derek's death)
Me Before You (Will tells Louisa he can't stay with her)
Moonlight (Paula tells Chiron that she loves him)
Best Duo:
Winner: Hugh Jackman and Dafne Keen (Logan)
Adam Levine and Blake Shelton (The Voice)
Daniel Kaluuya and Lil Rel Howery — (Get Out)
Brian Tyree Henry andLakeith Stanfield — (Atlanta)
Josh Gad andLuke Evans — (Beauty and the Beast)
Martha Stewart and Snoop Dogg(Snoop's Potluck Dinner Party)
Best American Story:
Winner: Black-ish
Fresh Off the Boat
Jane the Virgin
Moonlight
Transparent
Trending:
Winner: "Run the World (Girls)" feat. Channing Tatum as Beyoncé — Lip Sync Battle
"Sean Spicer Press Conference" feat. Melissa McCarthy — Saturday Night Live
"Lady Gaga Carpool Karaoke" — The Late Late Show with James Corden
"Cash Me Outside How Bout Dat" — Dr. Phil
"Wheel of Musical Impressions" with Demi Lovato — The Tonight Show Starring Jimmy Fallon
Winona Ryder's Winning SAG Awards Reaction — 23rd Annual SAG Awards
Best Musical Moment:
Winner: "You're the One That I Want" — ensemble, Grease: Live
"Beauty and the Beast" — Ariana Grande and John Legend, Beauty and the Beast
"Can't Stop the Feeling!" — Justin Timberlake, Trolls
"How Far I'll Go" — Auli'i Cravalho, Moana
"City of Stars" — Ryan Gosling and Emma Stone, La La Land
"You Can't Stop the Beat" — ensemble, Hairspray Live!
"Be That as It May" — Herizen Guardiola, The Get Down
Best Fight Against the System:
Winner: Hidden Figures
Get Out
Loving
Luke Cage
Mr. Robot
Next Generation:
Winner: Daniel Kaluuya
Chrissy Metz
Issa Rae
Riz Ahmed
Yara Shahidi