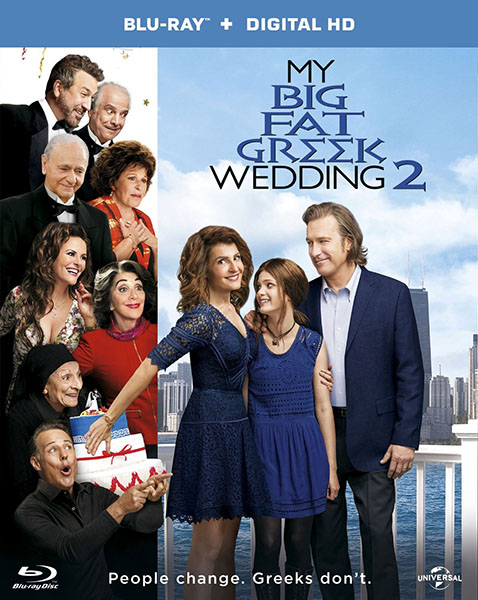 Nia Vardalos was the little Canadian comedienne who could. My Big Fat Greek Wedding is the highest-grossing romantic comedy of all-time, despite being an independent film shot mostly in Toronto on a $5 million budget.
Fast forward 14 years and Vardalos and the gang are back in My Big Fat Greek Wedding 2. Toula (Nia Vardalos) and her husband Ian (John Corbett) are happily married and live in Chicago with their daughter Paris (Elena Kampouris).
The family lives next door to Toula's parents, Gus (Michael Constantine) and Maria Portokalos (Lainie Kazan). Paris is feeling smothered. Gus tells her she's looking old and needs to find a Greek boyfriend. If that wasn't bad enough, her mother insists on volunteering at Paris's school as often as she she can.
Meanwhile, Gus is convinced he is a descendant of Alexander the Great… in fact, he thinks everyone is. After all, Alexander the Great traveled the world spreading his seed and so everybody is Greek #GusLogic.
While looking through his records he finds his marriage license. Upon closer inspection he discovers the priest forgot to sign it, making his marriage to Maria unofficial. Maria jokes that she is a hippie for having children with Gus without technically being married. However, Maria wants Gus to propose to her before she'll marry him again.
One character I loved was Paris Miller. Elena Kampouris is completely compelling. Even when she's surrounded by a hoard of eccentric Greek family members, she still commands the scene. Her eyes speak the languages of frustration, anxiety, facetiousness, disengagement, embarrassment and best of all, joy. If the film had focused more on Paris it would have been a much stronger movie.
Nia Vardalos and John Corbett have chemistry in this movie just as they did in the last. The problem is that the movie has to juggle three storylines. Gus and Maria's wedding, Paris choosing a university and Nia's marital slump. Too much time is dedicated to Gus and Maria, so the character the audience is most likely to relate to, are relegated to the sidelines.
When My Big Fat Greek Wedding 2 is funny, it's hilarious. There's a scene where older Greek men are doing shots, followed by a group of young Greek boys doing shots of orange Gatorade. Another detail worth commending is the inclusion of a gay Greek into the film. The character isn't given enough time to be fleshed out, but the Portokalos family accepts him and his partner with open arms.
The Blu-ray comes with several entertaining bonus features. The Gag Reel was a welcome addition because the actors were loose and unscripted, allowing their spontaneity and instincts to come out. Making the Greekquel tells the story of why it took 14 years to make a sequel to My Big Fat Greek Wedding. My Big Fat Greek Dinner is the perfect treat for the movie-watcher with an appetite.
This movie is a nostalgic trip for those who saw the first film. As long as you're O.K. with retreading the same jokes as the first movie and spending most of the movie with Toula's parents and extended family, this movie will have you cheering "OPA!"
We have two copies of My Big Fat Greek Wedding 2 to give away! To be eligible to win, tell us below what you liked best about the first movie. We'll pick a winner this Friday (June 17) so watch your email for a notice!
Have you seen My Big Fat Greek Wedding 2? Either way I know you saw the first one! Leave a comment telling us what you think of these movies, and don't forget to click here to write your own review.  ~Yanis Khamsi