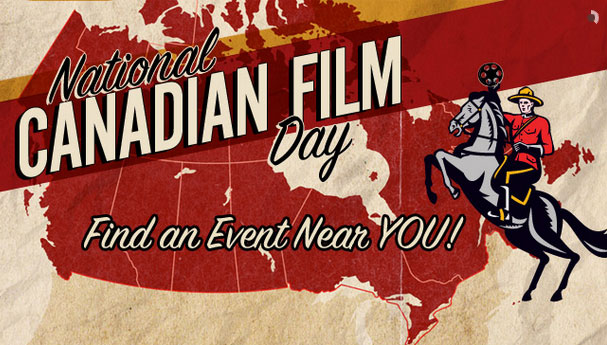 National Canadian Film Day – a one-day, coast-to-coast celebration of Canadian film – will return for a second year on Wednesday, April 29, 2015. National Canadian Film Day (NCFD) is a day for all Canadians to celebrate Canada by watching a great Canadian film. In its inaugural year NCFD held over 70 public and private events across Canada and the day was officially acknowledged in The House of Commons.
The second annual National Canadian Film Day (NCFD) is poised to be way, way bigger than last year's inaugural event, featuring:
*Over 150 public and private screening events (more than double last year's total) taking place across Canada in every province and territory, featuring a wide range of films – from recent faves to well-loved classics. Distributor Entertainment One has generously made available a variety of its most popular Canadian films.
*14 of REEL CANADA's trademark high school festivals across six provinces.
*New Canadian releases on screens generously provided by Cineplex Entertainment and Landmark Cinemas.
*Offerings on most major broadcast outlets, including Bell Media, Shaw Media, Hollywood Suite, Corus, Shomi, and APTN.
*Free online offerings at ca, cbc.ca, nfb.ca, canadascreens.ca, cfccreates.com and cfmdc.org
"It's a bit un-Canadian to boast about it, but the sheer volume of participation is ridonculous!" said REEL CANADA Executive Director Jack Blum, "and we're inviting everyone to join the party!" Added Sharon Corder, Artistic Director, "Canadians are having a lot of fun exposing themselves … to Canadian film! Helping everyone gain access to great cinema that they might not otherwise have a chance to see is one of the highlights of this day for me."
PARTICIPATING COMMUNITIES
The full list of communities where Canadian films will be screened is below:
| | | |
| --- | --- | --- |
| Annapolis Valley/Bay of Fundy | Barrie, ON | Brookfield, NS |
| Calgary, AB | Campbellton, NB | Campbell River, BC |
| Cape Breton, NS | Carmacks, YT | Charlottetown, PE |
| Chilliwack, BC | Courtenay, BC | Cranbrook, BC |
| Dawson City, YT | Edmonton, AB | Edmundston, AB |
| Elgin County, ON | Faro, YT | FlinFlon, MB |
| Florenceville-Bristol, NB | Fogo Island, NL | Fort McMurray, AB |
| Fredericton, NB | Guelph, ON | Halifax, NS |
| Hamilton, ON | Hearst, ON | Indian Head, SK |
| Iqaluit, NU | Jasper, AB | Kanata, ON |
| Kamloops, BC | Kelowna, BC | Kingston, ON |
| Lennox Island, PE | London, ON | Merritt, BC |
| Midland, ON | Moncton, NB | Montague, PE |
| Montreal, QC | Nanaimo, BC | Nelson, BC |
| New Westminster, BC | Oakville, ON | Old Crow, YT |
| Ottawa, ON | Penticton, BC | Peterborough, ON |
| Pictou-Antigonish, NS | Red Lake, ON | Regina, SK |
| Saint John, NB | Salisbury, NB | Sarnia, ON |
| Saskatoon, SK | South Shore, NS | St. Andrews, NB |
| St. Catharines, ON | St. John's, NL | Stratford, PE |
| Sudbury, ON | Toronto, ON | Trenton, ON |
| Turner Valley, AB | Vancouver, BC | Victoria, BC |
| Wasaga Beach, ON | Waterloo, ON | Whistler, BC |
| Whitby, ON | Whitehorse, YT | Winnipeg, MB |
| Yarmouth, NS | Yellowknife, NT | Yorkton, SK |
For a full list of programme offerings and to see what's on in your community, please visit http://canadianfilmday.ca/events