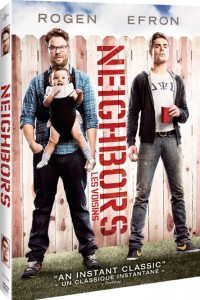 One of the most surprising duos in Hollywood, Zac Efron and Seth Rogen, star in this hilarious comedy about two new parents, played by Rogen and Rose Byrne, who go to war with a fraternity that moves in next door. Neighbors is a raunch-fest with a lot of heart, appealing to both the millenials terrified of stepping into the adult world and the adults who are terrified that they'll never feel young again.
Mac (Rogen) and Kelly Radner (Byrne) try to convince themselves they can have it all – raise a beautiful baby girl in the suburbs while maintaining their youth and keeping up with their eternally immature friends, played by Ike Barinholtz and Carla Gallo. Their fears of appearing as boring adults increase when a local fraternity, Delta Psi Beta, moves in next door, led by president Teddy Sanders (Efron). Their attempts to cozy up to the "brothers" seem to work at first, until they are caught making an "anonymous" noise complaint.
What begins next is an all-out war between parents and frat boys, including several airbag incidents, bribing a pledge and an HIV scare for their infant daughter, culminating in a confrontation at the Psi's end-of-the-year party.
Efron takes on a great comedic turn in his role as Teddy, enough to make anyone forget about his High School Musical days. His onscreen chemistry with Rogen is both a surprise and a delight for audiences, as well as his epic bromance with fraternity brother Pete, played by Dave Franco (21 Jump Street). Rogen works his usual charm as well with his spot-on improvisation and physical comedy.
What truly makes the film work, however, is Rose Byrne's performance as the bored stay-at-home-mom Kelly. Writers Andrew J. Cohen and Brendan O'Brien destroy the stereotype of the logical, boring housewife by making Kelly just as flawed and interested in joining the party as her husband. Byrne easily holds her own against Rogen and pulls some of the biggest laughs of the movie.
The Blu-ray/DVD combo pack is full of extra features, including an alternate opening where we see exactly why Delta Psi Beta had to move next to the Radnor's house in the first place. One hint? There will be plenty of fireworks.
Both the DVD and Blu-ray include a gag reel and featurettes like An Unlikely Pair, a look at the unexpected pair of Rogen and Efron, where Rogen admits about Efron, "He's not lame, he's actually a cool guy." The alternate opening, as well as deleted and extended scenes are exclusively found on the Blu-ray, as well as a behind-the-scenes look on the set where you see the magic behind Pete's "party trick."
Neighbors is available on Blu-ray and DVD today – Tuesday, September 23, 2014. Also releasing today: The 100, Amazonia, The Conquerors, God's Pocket, I'll Follow You Down, Ida, My Summer in Provence, The Rover, We Are the Best! andThe Signal. ~Kelly Townsend