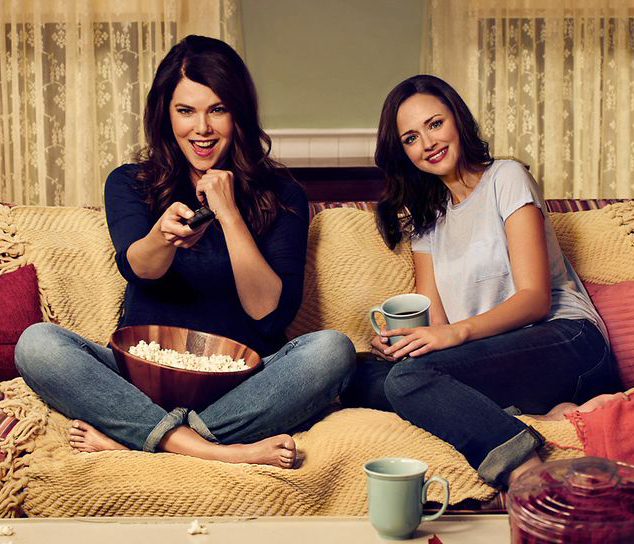 Streaming giant Netflix is considering giving us more episodes of Gilmore Girls.
The hit angsty and quick-witted drama about the lives of the mother-daughter duo recently delighted fans with the release of four 90-minute new episodes titled Gilmore Girls: A Year in the Life — and there could be more where that came from!
Netflix's chief content officer, Ted Sarandos, recently revealed to the U.K. Press Association that there have been "very preliminary" discussions with Gilmore Girls creators Amy Sherman-Palladino and Dan Palladino about making more episodes.
Last November, Amy Sherman-Palladino and Dan Palladino released an additional four episodes of the show in order to deliver the story line they never got to tell when the series ended back in its seventh season, the result of a contract and resource dispute between the network, The WB, and the show's creators — and luckily for fans, the ending of the final A Year in the the Life episode left a clear opening for the story to continue.
On whether the show would be coming back with more installments, Netflix's Ted Sarandos told the Evening Mail: "We hope. We obviously loved the success of the show, fans loved how well it was done, it delivered what they hoped. The worst thing is to wait a couple of years for your favorite show to come back and for it to disappoint you but they sure delivered and people were really excited about more and we have been talking to them about the possibility of that."
But fans shouldn't start cheering just yet, scheduling conflicts with the show's main stars could hinder the chances of filming new episodes — at least for now. Lauren Graham, who plays the role of Lorelai Gilmore, is currently under contract with 20th Century Fox TV for a new comedy pilot titled Linda From HR. Alexis Bledel, who plays Lorelai's daughter, Rory, is currently shooting episodes for the dramatic small-screen adaptation of Canadian author Margaret Atwood's book The Handmaid's Tale.
After waiting a decade for the last release of episodes from the show's previous final season, let's hope fans don't have to wait too much longer for the continuation, should there be one.
Would you be excited for more episodes of the hit series, or do you think it has run its course? Let us know in the comments section below! ~Alexa Caruso