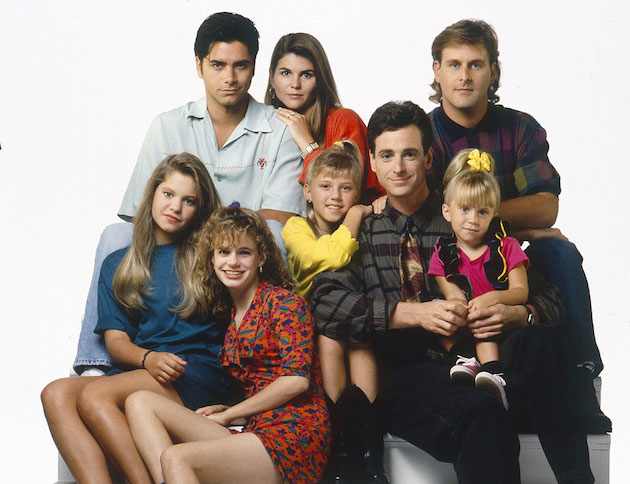 Have Mercy! Netflix has ordered 13 episodes of a new comedy called Fuller House, the long-awaited sequel to the much-beloved hit series Full House. Fuller House, by original Full House creator Jeff Franklin, will premiere exclusively on Netflix in 2016. Returning to the show will be Candace Cameron-Bure, Jodie Sweetin and Andrea Barber, with fellow Full House star John Stamos set to produce and reprise his original role of Uncle Jesse as a guest star in the new show. Discussions with Full House stars Bob Saget, Mary-Kate Olsen and Ashley Olsen, Dave Coulier and Lori Loughlin regarding guest appearances in Fuller House are ongoing.
In Fuller House, veterinarian D.J. Tanner-Fuller (Cameron-Bure), who is pregnant and recently widowed, lives in San Francisco. D.J.'s younger sister/aspiring musician Stephanie Tanner (Sweetin) and D.J.'s lifelong best friend/fellow single mother Kimmy Gibbler (Barber), along with Kimmy's feisty teenage daughter Ramona, all move in to help take care of D.J.'s two boys — the rebellious 12-year-old J.D. and neurotic seven-year-old Max — and her soon-to-arrive baby.
"As big fans of the original Full House, we are thrilled to be able to introduce Fuller House's new narrative to existing fans worldwide, who grew up on the original, as well as a new generation of global viewers that have grown up with the Tanners in syndication," said Cindy Holland, Vice President of Original Content for Netflix.
In a joint statement, executive producers Robert L. Boyett, Thomas L. Miller and Jeff Franklin said:  "The continued support of Full House fans of all ages for the last 28 years has been astounding. It is an honor and a thrill to catch up with these beloved characters and explore their lives today. The love you saw on the show was real. The cast has remained a loving family off screen all these years. We are as excited as our fans to finally bring Full House back to life."