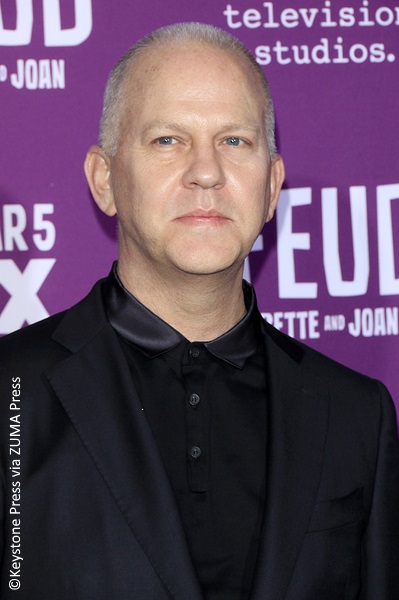 FX golden boy Ryan Murphy is moving to Netflix after signing a multi-year deal with the streaming giant.
The American Horror Story creator will be leaving 20th Century Fox after his contract expires in July. According to The New York Times, he has signed a massive five-year, $300 million deal. It is said to be the largest ever deal to be struck with a showrunner.
Murphy created several shows on FX, including American Crime Story, Scream Queens and Feud. Netflix Chief Content Officer Ted Sarandos said in a statement, "Ryan Murphy's series have influenced the global cultural zeitgeist, reinvented genres and changed the course of television history. His unfaltering dedication to excellence and to give voice to the underrepresented, to showcase a unique perspective or just to shock the hell out of us, permeates his genre-shattering work."
Murphy added: "The history of this moment is not lost on me. I am a gay kid from Indiana who moved to Hollywood in 1989 with $55 dollars in savings in my pocket, so the fact that my dreams have crystallized and come true in such a major way is emotional and overwhelming to me."
For fans who are curious about his existing shows, worry not, as he will continue working with them on Fox. He said: "I am awash in genuine appreciation for Ted Sarandos, Reed Hastings, and Cindy Holland at Netflix for believing in me and the future of my company, which will continue to champion women, minorities, and LGBTQ heroes and heroines, and I am honored and grateful to continue my partnership with my friends and peers at Fox on our existing shows."
Murphy enjoyed a long-term relationship with 20th Century Fox TV, but he expressed his uncertainty after the studio was acquired by Disney. The profilic producer is known for his provocative and graphic content, which is enjoyed by his viewers.
Netflix has been making strong power moves and the Murphy deal comes right after the streaming giant signed a $100 million contract with mega-producer Shonda Rhimes, creator of ABC's Grey's Anatomy, Scandal and How to Get Away with Murder. 
Murphy already has two new original series, The Politician and Ratched, which will premiere on Netflix this year. With an annual budget of $8 billion, Netflix is shifting the traditional TV trend towards digital platforms, striking big budget deals with on-screen and off-screen talent. ~Marriska Fernandes