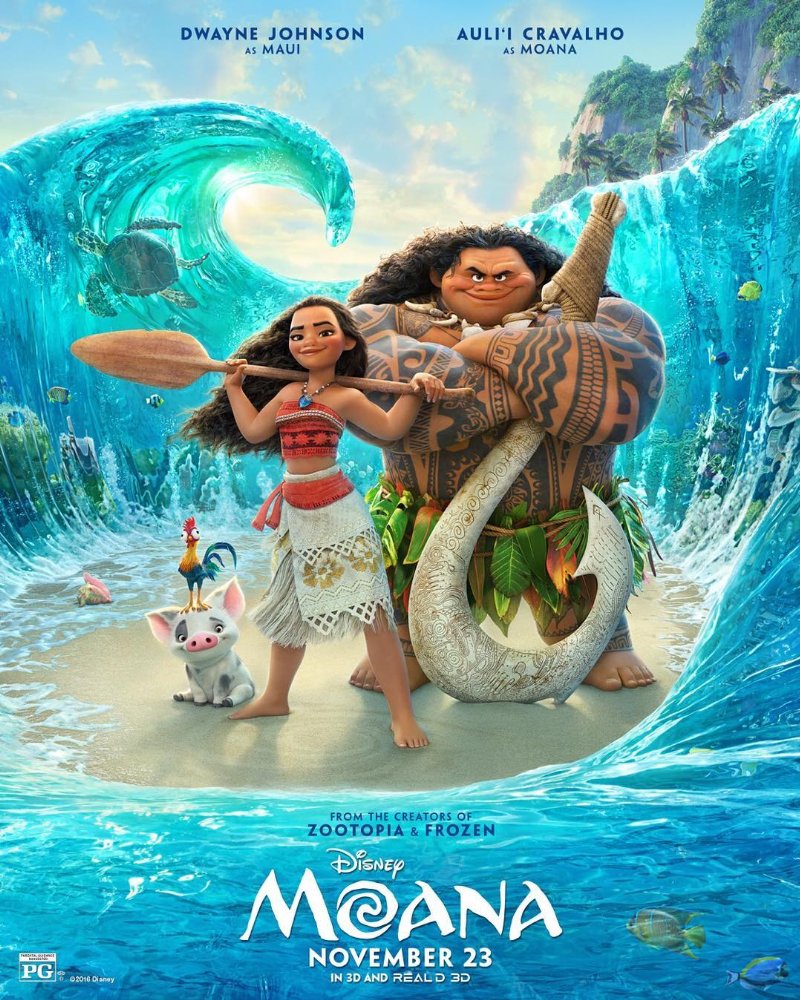 As December inches closer and the temperature plummets, the desire to escape the cold climbs. Exotic locales are extra appealing and beachy vacations are more enticing than ever.
With Disney's animated Moana, which features the voice of Dwayne Johnson and screens this weekend, your need for heat is satisfied under the striking, stunning Polynesian sun.
Joining Dwayne in theaters this weekend are Brad Pitt and Marion Cotillard in the war drama Allied. Turning the dial to a more festive note, Billy Bob Thornton returns as brash and boozy con-man Willie Soke in Bad Santa 2.
Oscar nominees Warren Beatty, Annette Bening, Casey Affleck and Michelle Williams can also be seen on screens in Rules Don't Apply and Manchester by the Sea.
Check out the full slate of films in theaters this weekend. ~Matthew Pariselli
Moana- On a mystic island off Oceania in the South Pacific, young princess Moana Waialiki (voiced by Auli'i Cravalho) is the feisty teenage daughter of the chief of her tribe, and the only daughter in a long line of navigators. When her family needs her help, she sails off across the open Pacific ocean on an epic adventure to save her people. Joined by the energetic, less-than-humble, once-powerful demigod Maui (voiced by Dwayne Johnson), Moana is determined to prove herself a master wayfinder and to fulfill her ancestors' unfinished quest. Click here for showtimes.
Trailer: Moana
Allied- In 1942 Casablanca during WWII, Max Vatan (Brad Pitt), a French-Canadian intelligence officer, meets French Resistance fighter Marianne Beausejour (Marion Cotillard), on a deadly mission behind enemy lines. They fall in love while working together on a mission to kill a German official, and afterwards Max convinces Marianne to come with him to London to marry him. However, their relationship is threatened by the pressures of war, especially when Max is told that Marianne may be a Nazi spy. He's given 72 hours to find out the truth, and if the suspicions are true, he's ordered to execute her or be hanged himself. Click here for showtimes.
Trailer: Allied
Bad Santa 2- Booze-soaked, foul-mouthed con-man Willie Soke (Billy Bob Thornton) is back to his old tricks in the sequel to Bad Santa. Teaming up once again with his sidekick, Marcus, Willie plans to pose as Santa, this time to swindle money from a charitable organization on Christmas Eve. They're joined by Willie's equally wicked mother, Sunny Soke (Kathy Bates). Meanwhile, Willie is infatuated with the curvaceous and prim Diane (Christina Hendricks), who unlike Willie, has a heart of gold. She also happens to be the charity director of the charity he plans on scamming, which throws a wrench into his plans. Click here for showtimes.
Trailer: Bad Santa 2
Rules Don't Apply- In 1950s Hollywood, aspiring young actress Marla Mabrey (Lily Collins) and her ambitious young driver Frank Forbes (Alden Ehrenreich) struggle with the absurd eccentricities of wildly unpredictable billionaire Howard Hughes (Warren Beatty), whom they work for. Marla is a strict Baptist who cannot fraternize with boys, much to the chagrin of Frank who, despite his mounting attraction, is forbidden to make a move for fear of losing his job. Their situation is made even more tense when Hughes begins making passes at Marla. Things really start to heat up when Hughes puts a ring on Marla's finger. Click here for showtimes.
Trailer: Rules Don't Apply
Manchester by the Sea- Reclusive handyman/janitor Lee Chandler (Casey Affleck) has to return home when his older brother Joe (Kyle Chandler) suddenly dies. Lee, who lives a solitary and seemingly unhappy existence, once had a wife and children before tragedy struck. He finds to his dismay that he's been named the legal guardian of his teenage nephew, Patrick (Lucas Hedges). When Lee returns to Manchester, he must face his painful past, along with his ex-wife (Michelle Williams) and the community of North Shore, many of whom are not happy to see him. Opening in Toronto, Montreal and Vancouver today. Click here for showtimes.
Trailer: Manchester by the Sea
Wait Till Helen Comes- When a blended family moves to a converted country church, Molly, 14, (Sophie Nélisse) discovers she has a gift, which makes her the only one who can save her stepsister from a dangerous relationship with the ghost of a lonely little girl. Based on the novel by American author Mary Downing Hahn, who plays the librarian in the film. Releasing in select cities today. Click here for showtimes.
Trailer: Wait Till Helen Comes
The Unmarried Wife- Anne Victorio (Angelica Panganiban) is a successful brand manager who is determined to be the mother and wife her own mother never was. Her marriage to the equally successful Geoff (Dingdong Dantes) appears to be the perfect union; however, under the surface, their marriage is cracking. Anne eventually separates from Geoff and meets the passionate, less domestic Brian (Paulo Avelino), who changes her life. But as she begins to embrace her new "unmarried" lifestyle, her role as a mother and her unresolved feelings for Geoff start to weigh on her once again. In Filipino with English subtitles. Screening in select cities. Click here for showtimes.
Trailer: The Unmarried Wife
Kacche Dhaagey- Kacche Dhaagey (Rebirth of Love) follows a Canadian-born girl who visits India to attend her cousin's wedding. While there, she meets and falls in love with a boy from a lower class status, much to the chagrin of her upper-class family. Opening in select cities today. Click here for showtimes.
Trailer: Kacche Dhaagey
Vanishing Time: A Boy who Returned- Following the sudden loss of her mother, Su-rin moves to a remote island with her stepfather, where she meets and befriends an orphan boy named Sung-min. One day, while the two are investigating a cave high atop a mountain, they find a glittering egg, which according to folklore, holds the power to instantly transform a child into an adult. Even though Su-rin tries to stop him, Sung-min takes the egg out of curiosity. When Su-rin goes to exit the cave, she discovers Sung-min has suddenly disappeared. The police begin an abduction investigation despite Su-rin's protestations. A few days later, a man in his 30s appears and claims to be the adult Sung-min. In Korean with English subtitles. Releasing in select cities. Click here for showtimes.
Trailer: Vanishing Time: A Boy who Returned
Bolshoi Ballet: The Bright Stream- In this laugh-out-loud slapstick comedy, set during a harvest festival on a collective farm in Russia, a traveling dance troupe reunites a ballerina with her childhood friend, Zina. In an attempt to teach her unfaithful husband a lesson, Zina and the ballerina switch roles for the evening, to chaotic and hilarious effect. Plays Sunday, Nov. 27 only.
Trailer: Bolshoi Ballet: The Bright Stream